Driving fast on the racetrack is fun. But the most fun you can have is being locked in a vicious duel with another driver, where you come out on top via a well-timed, beautifully executed overtaking maneuver — pumping up your ego while deflating your opposition's.
Overtaking comes in many forms, such as the Paul Tracy chrome horn and the Ricky Bobby slingshot. Then there's the over/under, round the outside, and the more traditionally accepted out-braking maneuver. How you achieve the deed is irrelevant. The key is simply to get it done. And doing so requires one thing — careful planning.
I was 14 years old, racing in the British Karting Championship. My coach was the legendary Terry Fullerton -– the one driver Ayrton Senna truly feared — and in fact could never beat on the world stage of Karting. Terry was as fiercely competitive as a coach as he was a driver, and he expected the very best from me as his student.
We were racing at Rowrah, a little track in Cumbria, England. I had qualified second for the first of two finals. In race one it came down to a final lap battle between DTM racer Oliver Jarvis and myself. I made my move for the lead into the hairpin, mid-way through the final lap. But on the last turn, despite my best efforts at defending, Oli slipped through and I lost. Still, second place was a solid effort. You can't win them all, I thought.
Wrong.
Terry took me to the back of the truck, away from all the congratulatory high fives. "If you ever fucking lose a one-on-one battle in the last lap again, I'm done. I'm ashamed of you. You must refuse to lose," Terry whispered into my ear.
I'd be starting P2 again in the second final, and with his words etched into my mind, the race began. Once more, it came down to the final lap — this time against a rival named Chris Rogers. As the last lap started, I waited. I was patient and didn't show my hand. I figured he would defend hard into the final turn but knew he would likely leave a kart width on the inside (based on his previous defensive moves). As we got to the turn I saw the slightest of gaps. I went for it up the inside, braked late and made the pass for the win — clean as a whistle.
G/O Media may get a commission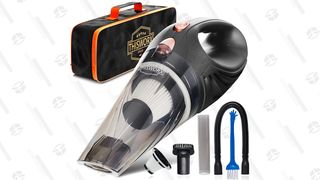 Save 50%
ThisWorx Car Vacuum Cleaner
Afterwards Terry gave be a giant bear hug. "That's what I'm fucking talking about." (He used that word a lot.)
From that moment onward I rarely lost a one-on-one battle. I understood that overtaking was a matter of careful planning and executing the timing, mixed with decisive aggression. A pass is constructed many laps in advance by studying your oppositions strengths and weaknesses. The reason I lost the first race is not because I didn't execute my pass correctly, or miss-timed the move. Rather, I executed it at the wrong spot, leaving him an opportunity to get me back before the checkered flag. My strategy was wrong.
Passing is about patience. You can't rush it, but at the same time you can't miss your chance. When the opening comes to make a move you must do so with 100% commitment. You can't dither or back out. That's when crashes occur. If you decide the time is now, then make your maneuver with absolute certainty so the other driver is unequivocally clear that you are coming. If you merely stick your nose down the inside to see if the other driver will turn in or give you room, 90% of the time you will end up touching. Commitment is key.
We all know about the Ricky Bobby "Shake N' Bake" slingshot. And making use of the draft to complete a pass is crucial. The longer you can stay in the wake of the car you are pursuing the better. With each second your momentum gains and you pick up speed. Then at the very last moment pop out and use the slingshot to assist in getting you alongside and passed your competitor.
Setting up a pass is extremely rewarding. Working a driver for multiple corners, tricking them into defending when you have no interest in passing at that particular bend. You attempt to put them off line and out of sync for the next corner, where you have them so far off balance you can make your move and disappear into the distance.
Time your pass in a location where it leaves little opportunity for the passed car to re-pass you (i.e., don't pass into a turn before a long straight where you know they could get into your draft and re-pass into the following turn.) Stay patient and wait, leaving you in the draft for the long straightaway and able to make the move with no opportunity for them to get back under you.
Overtaking (or rather, the competing aspect) is why I wanted to be a racecar driver. Sure, I love driving fast, but there is nothing more rewarding than spending an entire race (in some cases) planning, working and eventually executing a pass that leaves your competitor stunned and embarrassed at how easily you hustled them.
Of course, there may come a time when no matter how hard you try, you simply cannot find a way past a particular driver. Well, in that case I suggest using the good old Paul Tracy technique. Chrome horn the bastard out of the way. Because like Terry once told me, "You must refuse to lose."
About the author: @Alex_Lloyd began racing in the U.S. in 2006. He won the Indy Lights championship in 2007. He's competed in the Daytona 24-hour twice and the Indianapolis 500 four times — placing fourth in 2010. The native of MADchester, UK began racing karts at age 8, open-wheel race cars at 16 and finished second to Formula One World Champion - and close friend - Lewis Hamilton, in the 2003 British Formula Renault Championship, followed by a stint representing Great Britain in A1GP and winning races in Formula 3000. He lives in Indianapolis with his wife Samantha (also from England) and three young "Hoosier" children. He also enjoys racing in triathlons and is rather partial to good old English cup of tea. But not crumpets.
Photo Credit: Getty Images, fragment.fl