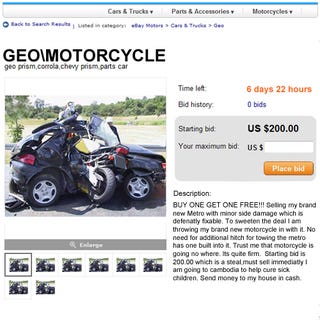 (Ed Note: The auction wizards at eBay Motors have been following the saga of McFly, the Once and Future Hyundai Owner. Because neither eBay nor Jalopnik want you to get screwed, we asked the 'Bay for some buying tips.)
With more than three million vehicles sold on eBay Motors to date, and a car selling every minute, eBay is one of the world's largest automotive marketplaces. The site brings together a huge community of buyers and sellers every day. Where else would you go to find a Tesla Roadster, a Porschefied Subaru WRX STI, a 1952 Studebaker pickup, and a Back to the Future DeLorean, all on the same day and in the same place?
Think about that for a second: three million sales. With turnover like that, there are bound to be anomalies like the recent Hyundai case. Still, there are protections in place on the site that help foster trust between buyers and sellers. Some of these protections are common knowledge; some aren't. To that end, here are some tips for prospective buyers:
Do Your Homework
1. Know what you're purchasing. We recommend seeing the car in person, but even so, rolled odometers or past accidents often hide under a veneer of shiny paint. That's why eBay offers free vehicle history reports on every eligible car and truck listing. We also highly recommend having an unbiased professional check out the car. If necessary, the site can faciliate such a check-out.
2. Know who you're dealing with. One of the best tools for eBay users is the feedback reputation system. It's basically a seller's rap sheet, and it allows buyers to avoid a scene from The Goods by viewing ratings and comments on the history of a potential seller. (Tip: If the dude is wearing a plaid blazer and wants you to check out his excellent Thundercougarfalconbird, he probably shouldn't be trusted.)
3. Communicate with the seller. Contacting the seller through the eBay Motors platform before bidding is one of the best ways to avoid sticky situations. Sellers should be prepared to answer questions and be up front about the vehicle's cosmetic and mechanical condition. (If not, the vehicle history report will probably narc on them anyway.)
4. Grab the title. It's always a good idea to see a copy of the vehicle's title before committing to a purchase. If the title has Wite-Out on it, run screaming.
5. Use common sense. This is perhaps the most important tip. Don't get carried away by wishful thinking or passion — no matter what the car is, another example will eventually come along, and not buying something hurts a lot less than losing thousands of dollars. Basically, you just need to use common sense — if it seems too good to be true, it probably is. (That rocket-powered, $1500-Buy-It-Now Jaguar D-Type that Steve McQueen once owned and flew to the moon in? Probably not real.) Use good sense and patience to sniff out any potential problems.
Protect Yourself
1. Never use Western Union, MoneyGram, or any other instant cash-transfer method to pay for a vehicle. This sort of thing is cool if you're buying a SlapChop (or in for a Cash4Gold transaction), but not with a car. If you decide to pay in cash, do so in person, and be sure to get a written record of your transaction. (Also, bring a friend that works out. When it comes to transaction security, too much muscle is never enough.)
2. Check to see if the vehicle you want to buy is covered by the eBay Motors Vehicle Purchase Protection Plan. You can find out in the "Buy Safely" section of the listing. Most vehicles are covered, and those eligible are protected for up to $50,000. (In order to be covered by the plan, eligible transactions must be made on the eBay Motors platform. In other words, if you found a car on eBay and purchased it in some other manner — say, going to the seller's house and offering him a briefcase of unmarked bills before the auction end — it doesn't count.)
These tips aren't a guarantee, but keeping them in mind will go a long way toward assuring a trustworthy, legitimate transaction on eBay. Happy bidding!

Image Credits: XKCD, Demotivateus