You know that feeling you get in the pit of your stomach when you come in a little too hot and grab a little more front brake than you should? That internal debate about whether you'd save this one or this would be the time you'd gone just a little too far?
That's how I felt as I barreled into an upcoming 90-degree right hander. I ran out of talent right about the time I ran out of traction, and found myself contemplating how much damage I'd done to the bike and how I'd explain I needed a new suit before I'd finished rolling on the pavement.
Fortunately, while this little off did happen at the Autoclub Speedway in Fontana, California, I was picking myself up off of their parking lot instead of the runoff in one of the turns of the track. Don't get me wrong, I was still racing. I was just racing a KTM 390 Duke around a cone course instead of a superbike around the track. This meant I was doing maybe seven miles per hour instead of triple digits, and that I'd done nothing more than slightly wear out a frame slider or two instead of needing all new plastics.
G/O Media may get a commission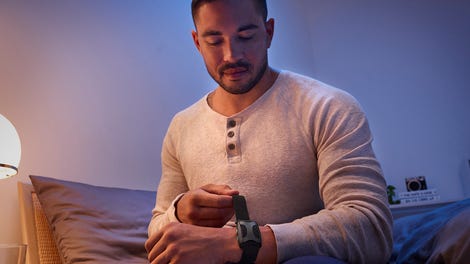 This is M Gymkhana, a timed cone course designed specifically to test your bike control skills. Sorry, I know many of you were hoping for a Ken Block-esque burnout competition with rings of fire, but that doesn't mean there can't be any sliding involved.
The goal, naturally, is to make it from the starting gates to the ending ones in the shortest time possible, without knocking over a cone or putting a foot down.
While riding around some cones in a parking lot on a small-ish bike sounds easy enough, I can assure you it's far from it. I've been riding for 16 years and racing professionally for six, and this day in a track parking lot with a bunch of cones was both one of the hardest and most fun things I've done on two wheels in a long while.
Learning the minute-twenty course was the first struggle I had, and I felt really awkward as I followed the instructor around it lap after lap trying to commit it to memory. I quickly found myself relying on many of the basic fundamentals I hadn't thought about in years. As my pace quickened, I turned the 390 Duke's ABS system off and, after a few more tries, was sliding my way around the course.
Initially I was worried my six-foot-four frame would be too big for the bike. I've always wanted a Honda Grom, but I just look like a pile of limbs stacked on it that I've never pulled the trigger. The 390 Duke feels like it weighs nothing and seems so small as you walk up to it, but I had no problem moving around on it nor did it have a problem moving me around.
Once we'd learned the course, they set up the gates so we could time ourselves to get an idea where we were at. The instructor set a time of 1:24, which seemed doable until my first attempt came in at 1:32.
While my supermoto background had me more comfortable sliding, they told us it wasn't the fastest way around the course. I wasn't sure I was buying it, and I was at least having more fun backing it in to corners, and I managed to get my time down to a solid 1:26 by the end of the day. Well, at least I thought it was solid until KTM's Chris Fillmore slid his way to a 1:22 and blew all our minds.
One of the most fun parts about the day was just the general sense of camaraderie. Sean was out with his walker and, while some of the other riders were journalists, some were just guys who showed up on their bikes and wanted to try Gymkhana out for themselves. One guy was a pretty good rider and braved the course on his Aprilia Tuono, while another showed up on his Kawasaki Ninja 650 and was nervous to try at all after admitting he'd never been on a track.
I remember my first track days and how intimidating they felt. Unlike those days, M-Gymkhana is only what you want to make it – be it a balls-to-the-wall competition with your buddies where you'll likely crash or just a fun way to work on bike control.
Check out www.m-gymkhana.com for more info on the courses and different ways or events you can get involved with.
Corey Alexander is a bad, bad man on a motorcycle. When he isn't lending a hand as Sean's fast guy, he's races a Ducati 1199S in the MotoAmerica series. You can and should follow him on Instagram.