Strength Training For Performance Driving is a must-have for the mustachioed 80s NASCAR driver and, helpfully, includes instructions for how to get your pump on in a cheap motel like the one I'm staying in. Mark Martin's advice inside.
This seminal piece of exercise literature was written by NASCAR driver Mark Martin and super stout trainer/exercise physiologist John S. Comereski. Beyond just your normal forearm-strengthening curls, the book offers a detailed guide for how to keep your shape when you've booked a cheap hotel near VIR (more money for tires) for your next race.
Because there's probably not a full gym in the Meth Head Inn, you've got to improvise. A towel full of ash trays or a duffel bag makes a great replacement for weights. Why do calf raises on the ground when you can do it in the nightstand?
After doing these exercises I'm feeling faster, sleeker, trimmer and just a tiny bit gayer. Buy it here.
G/O Media may get a commission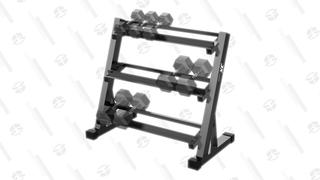 20% Off
JX Fitness Dumbbell Rack
Gains but tidy
Has a three-tier design to help store more weights more conveniently, can safely support up to 1000lbs of weight, which should be enough for most people, has a triangle base for stability, and also features anti-scratch feet which is great if you've built your own studio or workout in your garage.
Special thanks to Intern Morgan Barry for helping film this!