I live in Texas. I only ever see large amounts of snow if I leave the state. But what I learned after doing not one, but two snow driving schools with Porsche and Mazda, is how to turn those distinct winter driving disadvantages into wild hooning superpowers—and also how not to spin out, crash and die.
(Full disclosure: Porsche wanted me to experience their Camp4 Canada program so badly that they flew me out to experience an abridged one-day version of it. Mazda also put on its Ice Academy in Colorado, where I got to test out a bunch of different cars in the snow. Mazda's event was also promoting the Bridgestone Blizzak winter tires, so of course, one demo was on how winter tires affect grip. Food, travel and lodging were provided during both events.)
Back before things started warming up, Mazda was hosting a press-only Mazda Ice Academy in Crested Butte, Colorado, to pimp out its newest all-wheel-drive system on its CX-3 and CX-5 crossovers as well as to teach writers how not to be doofuses in the snow.

Porsche's program, on the other hand, is one that anyone can do. Camp4 Canada exists to teach you a few cool rally driving tricks in a suite of new Porsches. It's hosted at an ice track north of Montréal, and the intro course (which includes resort accommodations, food and the course itself) can be done for $5,295 Canadian, or about $4,080 U.S. It's great fun, and we've got a more detailed video and review of that program coming up soon.

G/O Media may get a commission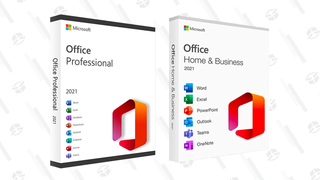 95% off
Cyber Monday - Lowest Price Ever - Microsoft Office Lifetime License
Some of these cars, such as the Porsche 911 Carrera4 GTS, Mazda CX-3 and Mazda CX-5, were all-wheel-drive cars the general public usually associates with being competent in bad weather. Others, such as the rear-wheel-drive Mazda MX-5 Miata, Porsche Cayman GTS and Porsche Carrera GTS, were less so, but that's why they were great. What better learning tool is there than a rump-heavy 911 that always wants to spin?
In Texas, we may get ice, but snow—real snow—is fairly rare in most of the state. Even if you know how to drive in the snow, no one else does, and nowhere in the state is actually prepared for it. Everyone who's out there is either stuck there due to some extenuating circumstances and/or vastly overestimating their own ability.

The roads here are always covered in sand that doesn't help much in the best-case scenario, or completely ignored everywhere else, exacerbating our issues with bad snow drivers. Again, Texas has no idea what to do with that white magical sky-fluff.
Still, if I can master driving in more snow than I've ever seen on in my life, you can, too. It's actually not that hard.

Tires Matter More Than Drivetrain
Snow tires are great in the really nasty stuff. They have more little grooves (called sipes) in the tread so that give you extra traction in the snow. Porsche's ice driving winter tires also had metal studs in the tread to claw into the ground. We keep harping on this point every time Winter Storm Why Do These Have Names Because That Is Dumb And Pointless rears its ugly head, but I saw it in action at the Mazda event: it's your tires–not your drivetrain—that do the most to save your bacon in the snow.
Most of my limited snow driving experience is from getting stuck at Eagles Canyon Raceway—a good four hours away—when it inexplicably gets blasted with snow and ice. The first time, I was in my daily driver on summer tires which had no grip whatsoever. My drive home took twice as long, and I had to stop for ice cream mid-way to unclench my buttocks and breathe. (What? Corsicana has a Braum's. Braum's mint chocolate chip is the business.)

The second time, I was in a Chevrolet Silverado 1500 High Country press truck with four-wheel-drive that helped a bit, but it was on huge chrome wheels clad with slippery all-seasons. The truck was magic, and that four-wheel-drive system would climb almost anything you threw in front of it—but it did so in spite of its tires, which felt about like the plastic wheels on a Power Wheels Escalade at that temperature.

I only ever see winter tires on rallycross beaters where I live. Grip is not a thing I've associated with snow.

Imagine my surprise when I got on actual winter tires in heaps of snow and they did an okay job of keeping the cars where I wanted them, at reasonable winter driving speeds. Snow tires are great.

Even the rear-wheel-drive 2016 Mazda MX-5 Miata on winter tires was far easier to drive on the snow than the front-wheel-drive and all-wheel-drive versions of the CX-3 crossover on all-seasons. Those are supposed to be the drivetrains to have in the winter, but nope: those rugged-looking baby crossovers on all-seasons sucked more than a Miata on season-appropriate tires. (Needless to say, the all-wheel-drive CX-3 on winter tires handled snow like a boss.)
Whoever said that an MX-5 was a bad winter car must be trying to go out on their rock-hard frozen summer tires. That car was awesome in the snow, and produced far more smiles even than the big, warm crossovers we got to drift around like a bunch of hoons. The MX-5 just goes sideways on demand. Blip the throttle a little bit in a turn, countersteer, and laugh all the way home.
If you're tired of seeing your fun car sit all winter long and can't move to the wonderful land of no salt and year-round track time where I live, just throw some good winter tires on it and drive, dude.

Where does all-wheel-drive actually matter, then? Well, it's good at sending power to the tires that have the most grip, and therefore, rocks at getting you going in tough spots, like on steep hills or deep snow. This often means that you can carry a lot more speed through turns before you get really sideways, which is good to know if you're just out on public roads.

In terms of unexpected speed, Mazda's new trick all-wheel-drive system on its CX-3 and CX-5 really shined in the loose stuff. The i-ACTIV AWD's active torque control coupling system sent power seamlessly to the rear wheels when it needed to divert power away from slipping wheels or simply dig the little crossover out of a hole.

Mazda uses a front-wheel-biased AWD system, but it sent power to the slipping wheels so quickly that it never felt like a true, nose-heavy front-wheel-drive car. Out of all the cars tested, these were able the carry the most speed in corners thanks to the combo of that trick all-wheel-drive system and the right tires.

The most fun path isn't always the fastest, though. The rear-wheel-drive cars that didn't have the engine's weight over the drive wheels—the Porsche Cayman GTS and the Mazda MX-5—were by far the easiest to get sideways. Of course, that sideways motion is a lot easier to control when you're on seasonally appropriate tires.

Slow And Steady Gets There In One Piece

This isn't going to be the most popular bit of advice, but I'll say it anyway: if all else fails, be smooth and slow. This is how I nursed my car home from Ft. Worth on tires I chose for track use instead of snow traction, and this method of "drive slow" still worked when I got thrown into a bunch of Mazdas and Porsches that I didn't want to wreck.

Know that flinging the car around abruptly will also shift the car's weight off of a wheel you probably need to maintain grip, and that's a good way to end up in a ditch. Also know that higher speeds are harder to catch and control when you screw up.
Don't overestimate your abilities if you're just heading from point A to point B.

I was surprised that I wasn't the slowest person on Mazda's drive, given that the first thing they did was unleash us on public roads to test out their all-wheel-drive crossovers as well as a few competitors' cars on the same tires. Thanks, Mazda. That's a lot of mailboxes to hit.

I was moving at a snail's pace for my first little bit in the cars, but you know what? I didn't wreck anything I drove, either. Gradually, I got used to the snowy surfaces and got up to speed, so it all worked out regardless.

Remember: there's a lot more shame in stuffing your car due to your overenthusiastic driving than there is in just puttering along at a safe speed.

Other drivers on the road know the conditions are slippery. Pull over if there's a line behind you to let traffic through, or keep to the slow lane if there's one to use. Don't be afraid to drive to the conditions, even if one of those "conditions" is you trying not to soil in the driver's seat.
Just be courteous if the jamoke behind you thinks he's Colin McRae. There's no point in holding faster traffic up. Let him spin out, flat out. You do you.

Mind The Surface
Snow is awesome, but it doesn't exactly give you a uniform surface. What you need to watch out for is ice. Unexpected ice will ruin your day and send you into a snowbank.

Between the two programs, I got to experience a little bit of everything, from the smoothed-out ice track Porsche used as a learning tool to some snow-covered roads outside of Crested Butte that Mazda used to illustrate real-world conditions. I'll take puffy snow over ice any day.

As a snowy surface gets mashed down by feet, cars, horse-drawn buggies and other weight, it becomes hard, slick ice, which has significantly less grip than loose snow.
While not every road has enough room to hunt for a clear path of pristine, un-driven-on snow, when you can, avoid the hard packed-down ruts and you'll find more grip. Nowhere was this more noticeable than in an autocross-style course Mazda set up for us to tinker with the MX-5 on the snow.

Because our group was one of the last to use that particular course, the line closest to the cones was already well packed down. If you wanted grip to turn, it was easiest to find at the edges of the course where few cars had run before.

Whenever we were on the closed courses for these schools, I also knew I could try things that I couldn't try on public roads, and pushed it accordingly. By "pushed it," I definitely mean that I spun. I spun a lot. Eventually, though, I started to get more of a feel for avoiding a spin.

Don't panic when you can't avoid a big patch of ice, though. If you see it's coming up, slow down beforehand. If you start to slide more than expected, keep any steering or throttle inputs smooth, and slow down your speed. Speed back up once you're back on grippy, pristine snow.

The extra grip means that there's a bit more room for error when you're on fresh snow. That's room for you to play around, provided you're in a safe, legal place to do so. Kick the tail end out, blip the throttle, and get as sideways as God intended in this kind of weather.

Bonus: donuts just look better when you're kicking up huge rooster tails of white powder.

Do Some Rallycross When It's Not Snowing
Contrary to popular belief, snow isn't the only loose surface out there. Dirt is almost universally accessible regardless of location, and also fun. There's a lot of wonderful stuff I've done on loose, dry dirt that translates over into snow driving. Consequently, I was a little surprised that I didn't feel entirely lost in the snow, even in the post-blizzard conditions of the Mazda Ice Academy.
I'm also certain my last words will be something akin to "I tried this on dirt once!" Either way, attempting to pull off sweet drifts in the snow made me feel oddly right at home.

Rallycross is probably the easiest way to get yourself on dirt, as it's just a course laid out on an unpaved surface that you can even do in a regular road car.

Stabbing the brake with your left foot in a turn, for example, is really great for getting the car sideways without having to lift off the throttle. Same goes for anything that transfers weight off the rear wheels. When you brake in a turn, for example, the weight of the car shifts to the nose of the car, allowing the rear wheels to lose grip much easier.
As in the dirt, less grip in the snow and ice means more fun. You can then steer your car by messing around with weight transfer instead of having to slow way down and wait for the front wheels to regain full traction in the loose stuff.

The only caveat to this piece of advice is that everything I did felt exaggerated on snow and ice, especially in the tail-happy MX-5 and Cayman. It took far less speed to get sideways on these ice and snow tracks than it did on good ol' familiar dirt. I had to be even smoother—especially when I got to packed-down patches of ice—and when I wasn't, that's when I spun. (Oops.)
Rallycross, then, is a great place to start, and it's something you can still do now that the weather's getting warmer. You'll learn how cars handle on loose surfaces on stuff that has just a little more grip than snow, and have a blast doing it.

You'll Never Learn If You Don't Try

The basic road driving skills needed to fetch tampons in a blizzard will come in time, with practice. (It's always tampons. Ugh.) Even then, some of the most experienced winter drivers I know still sometimes hit unexpected patches of ice and wreck. Snowy weather is fun, but can be dangerous.

If you're just going to CVS and back, don't be a show-off. Save it for a safe, open, empty lot that you know doesn't have a ton of blocks in the way, and then rip as many sweet drifts and donuts as you want.
While both the Porsche and Mazda schools were arguably fancy promotions for their newest cars, Mazda's focused a bit more on real-world driving situations instead of sweet winter-weather rally-style tricks. Both were worth doing for different reasons. Mazda demonstrated the need to wear seasonally appropriate tires as well as the abilities of their latest AWD system, while Porsche encouraged us to tinker around at the limit of their cars' grip.

Do a bit of both, whenever and wherever you can. Drift around an open parking lot to get used to how your car feels when it's sliding around, and don't be afraid to get out on the normal, open road when conditions aren't perfect. Both skills come in handy when you need to get somewhere in the snow.

If you're like me and don't have snow nearby, find a nearby rallycross group, or even a rally school. Practice throwing around a car in a limited-grip situation so that whenever that one hundred-year blizzard hits, you can be the one ripping sweet parking lot snownuts for the bored local news guys. Don't fear the RWD. Embrace it. Especially if the engine's in the back.
Like I said: if I can go play in the snow without wadding up someone else's car into a tiny, crumpled snowball, anyone can.