Ayrton Senna is arguably the greatest racecar driver to ever walk this planet –- and neighboring planets too — but he will always be the undisputed rain master. When the heavens opened he was unbeatable, showcasing his prowess in a way no other driver could match.
Rain is the great equalizer. It provides a driver an opportunity to overcome mechanical deficits. The emphasis is set on feel, awareness and adaption. Car control and throttle modulation become top priority. The conditions take center stage as the most prominent obstacle standing between each driver and their shot at victory.
Drivers fear the rain. They may not say it, but they think it. It puts people in the wrong frame of mind heading into a race. Thoughts like, "I need to leave a little extra margin for error so I don't crash," or "Bloody hell my socks are soaked," slip into their minds. Most are simply thinking, "Dude, this sucks!" Mentally you need to be tough and squash any negative thoughts. You should be thinking, "Man, this is brilliant. I'm going to punish you fools and make you look like a bunch of idiots. This is my chance." Racers fear a demeanor like this. They won't understand why you are so confident and excited when they are not, thus making what little ego they have left shrink even further.
Of course, all the mental strength in the world can't make you drive fast in the rain if you have no clue how you drive in the wet. When Ayrton Senna participated in his first wet race he was "useless." He "couldn't do any good." So what did he do? "Whenever it rained, I went to the go-kart track," Senna explained. While other racers were sitting at home watching their Dad's filthy movies, Senna was getting pissed wet through driving round and round the local go-kart track — learning, experimenting and mastering. "That's how I learned," Senna once said.
G/O Media may get a commission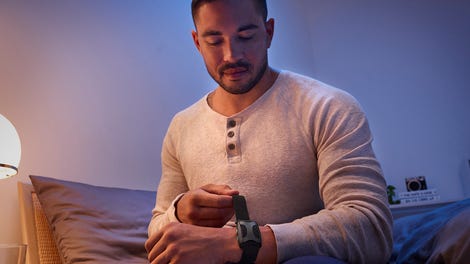 The first thing you need to do when driving a wet racetrack is forget the traditional racing line. Now your focus is on finding grip. It doesn't matter how unconventional or stupidly illogical your lines appears, finding the most grip will result in the fastest lap time. I'm not saying the usual racing line is not the best option –- many times it is — but it can also be completely different, especially when the track has been well used and a lot of rubber is laid down on the racing line. Wet rubber is extremely slippery and avoiding this is often a far quicker way around.
This is very evident when karting. In fact, my first ever race victory was in a go-kart in the rain. How I did it was by utilizing my naturally smooth style and venturing completely off the beaten track. I broke a kart length to the inside of the usual braking line to avoid the slippery rubber (allowing me to brake later), then ran my kart right around the outside of the bend (which is where I found a bunch more grip). Then I pinched the car on exit to accelerate in a straight line, tighter than the traditional line, to again avoid the rubber and leaving me with a faster exit. What I discovered helped me win by a quarter of a lap in each heat and ultimately in the grand final.
The same theory is used with any racecar on any track. Search for grip. Look for other patches of tarmac that might provide better grip than where you would normally drive. Brake in new areas and be conscious of what tire rubber can do to the track surface when wet. Be prepared to short-shift up the gears if it helps put power down, or even choose a taller gear through the bend to assist with this. Think outside the box, and be attentive to other racers' lines. Can you learn anything from them?
Above all, practice. Don't sit on the couch watching reruns of The Real Housewives of Orange County. Grab your umbrella and head out to the racetrack.
Ayrton Senna almost won a rain-soaked 1984 Monaco Grand Prix in his first season in F1, racing for the lowly Toleman team. He then won his first ever Formula One race at an equally drenched Portuguese Grand Prix the following season for Lotus. But the most memorable victory of his career perhaps came at the 1993 European Grand Prix at Donington Park (a race in which I — age 9 — stood watching in awe). In an underpowered McLaren, facing a dominant Williams, Senna dropped to fifth off the line. The rain was torrential, but by the end of the first lap, often referred to as the greatest lap of all time, he was miraculously in the lead. He went on to win that race by 1 minute 23 seconds, masterfully lapping everyone up to second.
Senna famously said, "You think you have a limit. And as soon as you touch this limit something happens and you suddenly can go a little bit further. With your mind power, your determination, your instincts, and the experience as well, you can fly very high."
These are words every racer should live by.
About the author: @Alex_Lloyd began racing in the U.S. in 2006. He won the Indy Lights championship in 2007. He's competed in the Daytona 24-hour twice and the Indianapolis 500 four times — placing fourth in 2010. The native of MADchester, UK began racing karts at age 8, open-wheel race cars at 16 and finished second to Formula One World Champion - and close friend - Lewis Hamilton, in the 2003 British Formula Renault Championship, followed by a stint representing Great Britain in A1GP and winning races in Formula 3000. He lives in Indianapolis with his wife Samantha (also from England) and three young "Hoosier" children. He also enjoys racing in triathlons and is rather partial to good old English cup of tea. But not crumpets.