When an ad to enter a charity raffle for a fully restored twin-turbo 1994 Toyota Supra popped up on Daniel Shepard's Facebook feed earlier this year, he put down $100 for six tickets. Shepard, and everyone else, lost the incredibly controversial raffle, but it didn't take long for him to run into the car again.
Shepard still isn't sure how the ad ended up on his Facebook feed, seeing as he lives in Oklahoma and the raffle was being held by a dealership called Toyota of Rockwall in North Texas. He figures it had something to do with all of the Supra posts he shares, but no matter how it happened, Shepard waited for the raffle date to come—hoping one of his six tickets would have some luck behind it.
The tickets Shepard bought were six of the 4,000 printed, with proceeds going to a domestic violence resources organization called the Genesis Center. Five companies including the dealership helped restore the car, spending $17,000 to bring its estimated value to $30,000.
But April 14, 2017 rolled around, and Toyota of Rockwall announced the raffle winner on Facebook. Shepard lost. A woman named Rebecca Rawl won.

G/O Media may get a commission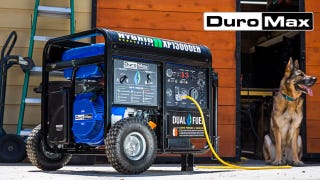 Black Friday Sale
DuroMax Generator Sale
It didn't take long for people to realize that there was a typo in her last name, and that the "Rebecca Rawl" awarded the car was actually the wife of dealership sales manager Danny Rawls.
That news didn't go down well. Facebook users pounced on the dealership's page, to the point that it appeared to have been temporarily deactivated. Statements came from the dealership's general manager and president in attempts to bandage up the situation, but things only got worse when the car wound up on eBay under the name "rawlsdanny09."
The dealer said in a statement after the raffle controversy spread that Rebecca Rawls "agreed to sell the vehicle" and donate the money from the sale to the Genesis Center as well. This didn't stop people from being upset that someone so close to the dealership won the raffle, especially considering most company contests bar employees' family members from entering.
Shepard said he was "just as upset as everyone else" who entered the raffle and hoped for a less fishy outcome, but what could he do? It was back to the Supra listings for him—a place he'd been browsing for five years already.
After a deal fell through on another Supra he was interested in, Shepard said a friend tipped him off to a one-owner 1994 model that was completely bone stock and in great shape. It sounded perfect, Shepard said, because he "didn't want to buy anybody else's problems."
So, he drove down to Texas where seller Abdul Ayas was located. Shepard said Ayas had several other modified Supras in the shop, and figured this one wouldn't have stayed stock long.
Shepard, who said most of the Supras he looked at would have been sight-unseen buys, said all he could think when he first saw the car was "Holy crap."

Ayas had it detailed before Shepard came, and Shepard said it was in amazing shape. He didn't even want to think about it. He wanted the car right then.
"I didn't even want to drive it," said Shepard, who was convinced by the seller to get behind the wheel before he bought it. "He offered to put it up on a lift for me and look underneath it. I peeked underneath it, we looked at the engine bay and stuff and I checked a few things out."
Shepard said at one point during the transaction, he mentioned how rare it was to find a one-owner example of such a coveted car.
"Well, you got lucky, because don't you know the history of this car?" Shepard remembers the seller saying.
"No, what's the history of the car?" he responded.
"It's the raffle car."
Shepard didn't believe it. He said the seller showed him the car's title and VIN number, as well as the "raffle Supra" key tag. When he saw all of that, Shepard thought: No way.

After he found out the history, Shepard said he "didn't even have to think about it." He bought it on the spot.
"It's one of those weird things where you get goosebumps," Shepard said. "At first, I didn't believe it. Like, there's no way this is that car.
"When I googled the VIN, I kept seeing stuff about a dealership, and I thought the raffle thing kept popping up because it was one of the most recent things that went viral about a raffle and a Supra. So I didn't put two and two together that it was that car, but whenever he told me it was, it all kind of made sense."
Shepard said his friend later told him Ayas, who told Jalopnik he bought the Supra straight from Danny Rawls, immediately regretted selling it.
Ayas confirmed that was the case, but that he does a lot of Supras and "feels that way with every one." The car was an investment, he told Jalopnik; he just let it go a little earlier than he wanted.
But being a mostly stock vehicle, this one had a unique feel.
"You drive that car and play something from '80s or '90s, and it feels like you're in that era," said Ayas, who added that a couple of components weren't up to spec when he bought it.
Ayas fixed and replaced what he could on a 23-year-old car, he said. It's hard to find a lot of those stock parts after more than two decades.
Shepard doesn't seem to mind that stuff. He said the car is "way past" any of his expectations.

"The car itself is great, but the attention that it gets—it's going to take some getting used to," said Shepard, who added that he has people ask him about it all the time. "Driving it home from picking it up, there were people leaning out of their car windows and taking pictures of it.
"It's just been a mind-blowing. I've had it for almost a month now, and it takes some getting used to for sure."
Shepard said the attention hasn't gotten old or annoying yet, and that he's "eating it up" for now. But if it ever does, he said, he'll keep in mind how nice the Supra owners he ran into were to him.
"If I ever saw a Supra when I was a kid, I would do the same thing," Shepard said. "I was drooling over it, I was asking all of the questions. And everybody I've talked to, they were never mean or anything, so I feel like I have to be that way too. I'm very happy with it."
Perhaps the most attention Shepard's car gets is from his own household—he said his daughter, who turned 3 earlier this year, can't get over it. He takes her to the park and on daddy-daughter dates in the Supra whenever he can, he said.

"My wife's got a new Tahoe, and [my daughter] doesn't want to take her car anywhere," said Shepard, who mentioned that the carseat is a tight fit in the backseat. "Anytime we go somewhere, she wants to take daddy's new car.
"She loves taking the top off, she loves just cruising around in it. I mean, she absolutely loves it."
But more than the attention and the future car nut in his own family, Shepard said he just wants everyone to know that the infamous raffle Supra "went to a good home."
"It was such a botched story to begin with, about the [sales] manager's wife winning it and stuff, that I want people to know that it didn't end that way," Shepard said. "I'm going to take this car and I'm going to love it for a long time, and I don't see it going anywhere."