Around mile five of our 600 or so mile drive to Eldora Speedway is when I noticed the RV I was driving, a Winnebago Vista LX, had a problem. No rear window and a bad backup camera meant I couldn't see the trailer behind me which would've been fine, if it were full of cargo, or a Chevy Trax. But it wasn't. I was towing a $6,000 U-Haul trailer with a $239,770 McLaren 570S on top of it, and couldn't see it.

This big RV was still instrumental in pulling off the most insane and ambitious Jalopnik video idea in history. Even so, this was far from easy.
(Full Disclosure: Winnebago, through GoRving.com, arranged for me to take this RV for a little under a week and provided basic camping supplies. They also took care of a small scratch I put in the side of it.)
THE IDEA
Races at Eldora Speedway usually happen on both Friday & Saturday nights meaning, you should stay as close to the track as possible to catch all the action.
G/O Media may get a commission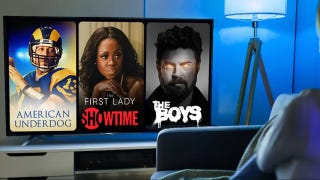 UNDER $1
99¢ Prime Video Channels
In New Weston Ohio though, where Eldora is located, the nearest hotel is 16 miles away—much too far to gain the full experience. So what do you do? You camp.
And so camp is what we did, all with two very different vehicles that happened to both be in the six-figure range. One of them was a bit better suited for living in.
THE LAYOUT
The Vista LX is a Class A RV, which means it's one of the biggest things you can drive on the road without getting a commercial driver's license.
Our model, the 35B, was priced at $152,758, and for that you get a two bathrooms, two bunk beds, one big shower, and the ability to sleep up to six or so adults.
With the slideouts extended, the square footage is greater than a New York apartment and provided enough space for Raphael Orlove, Jared Auslander and I to eat, shit, sleep, and shower within a few feet of one another for five days without killing each other.
And to eat, you have to cook, which we did a lot of. In the galley a microwave oven and three-burner stove provided the means to cook, while the dual sinks assisted in easy cleanup—especially with a limited freshwater supply. It does have a small oven, but a normal sized baking sheet wouldn't fit in it. (Good thing we liked raw cookie dough.) The four-door refrigerator/freezer combo had more space than we could fill, and the wood cabinetry made a vehicle that'll do 75 mph down the highway, feel like an actual home.

Even though the hot water tank was only six gallons, the three of us were never faced with a cold shower as our only option—so long as you gave the heater a few minutes to get going before you jump in. The two separate black and grey water tanks for each bathroom provided an easy way to manage—and dispose of—waste for inexperienced RV'ers like ourselves. If the forward tank was full, you could use the rear bathroom, and vice versa.
What's It Like To Drive?
Considering our journey was 600+ miles long we were bound to hit traffic at some point, which is always a terrible, boring, awful experience regardless of what car you're in. In an RV though, hitting traffic is wonderful.
I got up, used the bathroom, made myself a snack, scrolled through Instagram while I sat on the couch and when traffic started moving again, I simply returned to my throne behind the wheel and motored on. I don't care what frivolous luxuries and gadgets your Beamer, Benz, or Bentley has—nothing defines luxury quite like taking a number two in full privacy while in the middle of stopped traffic.

At its core, the Vista LX is a Ford F53 rolling chassis— a big box frame on wheels with a Triton V10, a six-speed automatic, hydraulic brakes, and big leaf springs in the rear. Like any truck, the more you weight it down the more comfortable the ride becomes.
On the way to Eldora with full water, propane, gas, and grey water tanks the ride was plush and pleasant. On the way back however, with everything empty, we were nearly bouncing out of our seats when faced with a pothole or a rough patch of road.
And then there's the steering. As a driver of the Winnebago Vista LX, you are never bored, because your hands are constantly occupied with making minute adjustments to the wheel to keep the beast between the white lines. At points, I felt like I was driving through an old western film.
Acceleration from the 6.8-liter Triton V10 is adequate, regardless of whether our 5,410 pound car and trailer combo was attached to it, and body roll was manageable throughout on/off-ramps. What impressed me the most about the Vista LX's driving dynamics, though, was the transmission's instinct to downshift during deceleration.
With the tow/haul mode engaged, the transmission made up for where the brakes lacked. I found myself on multiple occasions headed down a steep grade, trailer in tow, with no application to the throttle or brake. And with a truck/trailer combo that's more than 55 feet long, the less you have to worry about, the better.

The Vista LX also employs some clever tricks to keep the driver in tune with his or her surroundings during travel, like sideview cameras that automatically engage during lane changes. Just flick the blinker left or right, and after a moment, a feed showing your respective blind spot will appear on the head unit in the center console beside the driver.

There's also a backup camera, which is useful for connecting a trailer and showing what you're about to back into, but that's about it considering the camera's field of view is tilted too far towards the RV. If a normal vehicle's backup camera would be a GoPro, the Vista LX's would be a telescope. It's just way too narrow to be useful.

That meant the only way I knew our $240,000 McLaren 570S was still on the trailer, was by making wide turns to catch a glimpse of it in the rearview mirrors. On straight highway though, where we spent most of our time, I employed a very sketchy system—if a vehicle passed us on the left and the occupants were taking pictures, it meant the McLaren was still with us. If they passed us quickly and didn't take pics, then I'd know we were in trouble.

What Are The Gripes?
A few small conveniences, like having a water pump switch near the kitchen sink, a water level gauge outside near the freshwater inlet, and a more user-friendly audio/visual system would improve the living experience even further.
And though it seems like a small detail, the driver and passenger window screens need a more robust sliding mechanism, considering you've got to reach out the window to pay tolls, and occasionally look behind you while backing up.
The Verdict
If you can get past the driving dynamics and price tag, you will find no greater vessel for a long road trip. On the 10+ hour ride back, I drank coffee from an actual pot of coffee brewed right in the RV—none of that gas station sludge most are accustomed to. We filmed for four straight exhaustive days and having the Vista LX to come "home" to every night was worth the hundreds of dollars we spent on gas (seven mpg with trailer, average.)
Get yourself and/or your family, get an RV, and hit the road. It's good for you.