After a meteoric rise domestically, Chinese automakers are plotting an invasion of foreign markets. The stakes are incredibly high as they prepare to enter America, where Warren Buffett-backed Chinese carmaker BYD has been promising to sell an electric vehicle for a few years.
For BYD, failure is not an option.
Their plan for raising awareness of their E6 electric crossover was to hold a naming contest for it on their Facebook page. The grand prize of the "BYD Five Grand Giveaway" was, as the name suggests, $5,000 and the winning name on the car permanently. Not too shabby.
In the end, a man named Kevin Buffett — no familial relation to Warren Buffett — won with the uncreative name "EV6," ahead of five runners up that were chosen to receive additional prizes of $2,000 and $1,000.
There's just one problem: none of the people who won have real Facebook profiles and all of them are either BYD employees or linked to BYD employees. The grand prize winner? He's the company's foreign social media manager.
G/O Media may get a commission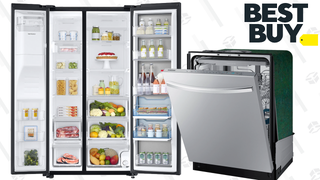 Up to 50% off
Best Buy - Samsung Major Appliance Sale
A tip from one of the contestants alerted us to a number of questionable facts about the six winners of the contest. Many of them were friends with each other on Facebook as well as employees of BYD. One name, Figo Ju, popped up in conjunction with nearly every winning Facebook account.
BYD America Vice President Michael Austin admitted to our tipster that the name Kevin Buffett was indeed an alias for Figo Ju. That's why the Facebook profile doesn't actually exist.
Speaking of Austin, in the 17 weeks leading up to the contest there were 34 weekly winners based on Facebook activity. Austin's sons Christian and Corey, as well as his daughter-in-law Joy Lynne Babcock, won the contest a total of six times. Figo Ju also won the second week of the competition.
The prizes for these weekly contests were generally small and not large cash handouts like the naming contest.
The other seemingly fake profiles — at one time there were at least six of them — all have strong ties to Shenzhen, China, where BYD is located. You can see the four remaining profiles in the gallery above. The winners are all either friends with one another, friends with Figo Ju, or have a mix of strange pictures and BYD news on their pages.
These people tend to be friends with few other people. They also have ridiculous names like Buffett, David Austin (no familial relation to Michael Austin), Pettie Camp, and Adelina Wihelmina. They use odd photos of babys from the Internet or Korean actresses for their profiles.
BYD told our tipster that the fake names were used because the contest winners wanted to stay anonymous. Ok, that's fair enough, getting a name on the internet is a road to an inbox full of spam and Chinese citizens are restricted from sites like Facebook.
But if they wanted to stay anonymous, why go through the trouble of making a number of fake accounts? That's where Figo Ju's day job comes into play.
Figo Ju is listed on LinkedIn as BYD's Overseas Online Marketing Manager and he lists his website as the BYD Facebook page. The LinkedIn page implies that he's in charge of the Facebook page, that hosted the contest, that apparently he won with the current name of the car with a "V" added.
We aren't 100% sure that the other winners are all Chinese, but they appear to be based on their profiles and the hilariously bad names they came up with: Volans, Run, EV6, BEC6, LC-6, and Save. Given they're all obsessed with BYD and friends almost entirely with other BYD employees it's not a stretch to guess that, like Ju, they too are BYD employees.
If they exist at all.
Some of the reasoning behind this is obscure. If BYD employees were trying embezzle money out of the company they did a horrible job of covering their tracks. If they felt it was all right for them to take $12,000 in a contest, it looks highly suspect to use fake accounts to do so, especially with fake names that sound like relatives of Warren Buffett and Michael Austin.
In the most generous explanation of this, it appears that BYD actually stuffed the ballot box with the fake accounts made by employees and friends of the company in order to make the "Five Grand Giveaway" appear to be a big success, and then collected some, or all, of the prize money for themselves.
Either way, real fans of BYD's Facebook page are the victim of a serious breach of trust and the company has exhibited the dangers of trying to run an American arm of the company almost entirely from China.
When presented with this information, BYD America provided the following statement:
Statement From BYD On Facebook Contest
"BYD regrets that any of our fans may have been disappointed by the way the "5 Grand-Giveaway" promotion was executed. The concept of facebook promotional contests is new to Chinese businesses and social media newer still. BYD naively opened this contest up to any of our new fans— employees and non-employees alike with the intention of generating some "buzz" around our newly created www.facebook.com/bydcompany fan page. Initially, a majority of our fans were, in fact, BYD employees, mostly from China. In hindsight, opening up the contest to employees was ill advised, as it may have caused misgivings about the final selection process.

While the promotion may have been poorly run, BYD emphatically denies any claim that the contest was in any way dishonest. Due to governmental misgivings about social media, many of the contest "winners", a majority of whom are Chinese citizens, may have chosen to create a Facebook page under an assumed name. Winners were selected in a blind ballot by a majority of Chinese managers (and assumed names were not disqualified).

The vehicle name, "eV6", after being vetted globally for trademark conflicts, was finally selected as the winner and is being used in our overseas promotions.

BYD again apologizes to all of our fans and would like to invite any reading this to email their Facebook ID and mailing address to PR@BYD.com to receive a free gift as our apology for any confusion caused by this promotion. You may also post a comment on www.facebook.com/bydcompany to receive your free gift — please refer to the "5 Grand-Giveaway" in your note*.

* To be eligible for the free gift, email or postings must be made before the end of the last day of July 2012 and does not include those having fraudulent Facebook accounts, employees of BYD or family members of employees."
All of this seems to confirm a lack of sophistication with regards to social media, that the contest was rigged, that BYD's barriers to entering the US market are greater than even its critics may have thought, and that they have now dragged Warren Buffett into a mess he doesn't need or want to be in.