By the grace of the Jeep Gods, my $600 Jeep Cherokee made the nearly 2,000 mile trek from Michigan to Moab without a single hiccup. As impressive as that was, what was even more amazing was how well the old XJ handled the trails. It kicked ass.

The story of Project Swiss Cheese has been a true fairytale, albeit one that required a ton of work. I bought the rusted-out junker from a high-school student for just $600. Then, with help from some readers, installed a junkyard lift-kit, replaced the cooling system and re-did the brakes. Then I prayed.
This story originally ran in March and is being reposted for the 4th of July weekend.
The aim was to get the XJ to Jeep's 50th annual Easter Jeep Safari, and show the world that you don't have to spend lots of coin to have fun on some of the world's greatest off-road trails.
G/O Media may get a commission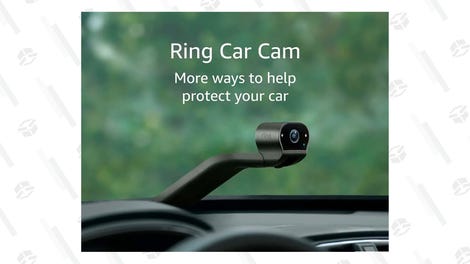 After four days of off-roading in Moab, I can say with certainty that my trusty XJ has proven my point, because it not only made it through trails without a single mechanical problem, but it also out-"wheeled" rigs costing 30 times as much.
I should be clear that I wasn't competing with anyone. In fact, that's one of the things about off-road culture that I think could use a change: it sometimes seems like a big contest, with people arguing about who has the biggest tires, most expensive axles and newest suspension setup.
That's not what off-roading is all about. Off-roading is about you and your teammate—your rig— tackling terrain that you never thought you could traverse.
It's about finding the limits of not only your vehicle, but also your driving capability. It's when you take your Jeep to those limits—to the ragged edge of your team's capability—that you are truly maximizing the off-road fun quotient.
Off-Roading Project Swiss Cheese:
Seven Mile Rim
My XJ and I didn't take on Pritchett Canyon (one of Moab's most grueling trails.) Instead, Project Swiss Cheese and I took on moderate trails like Seven Mile Rim and Hell's Revenge.
"Surely it would be more fun to conquer the hard stuff with a more modified Jeep," you might think. But I'm not so sure. The true joy of off-roading is finding trails that challenge limits.
Seven Mile Rim and Hells Revenge are moderate trails, but they've got obstacles that made my open-diff XJ struggle. There was an incline on Seven Mile Rim that looked downright daunting from the base. My Jeep and I sat at the bottom of the hill for what seemed like hours as I contemplated whether I wanted to give it a shot.
"There's no way we're making it up that," I thought. Even my friends, driving behind me in a new Jeep Wrangler, didn't think I could do it. Everyone thought it was unwise to even try.
A moment of clarity helped me realize that my Jeep was a gigantic piece of crap, and that I had an entire spare Jeep drivetrain with me. Worst case: I break it and fix it with the spare parts. Worse-er case: I break the unibody in half and junk the whole thing.
The risks were low, so I went for it.
The Jeep's Walmart tires slipped on the slick-rock, as the four-liter grumbled under the hood, as if to ask me why I had been too lazy to weld the rear diff. The Jeep started to hop, so to avoid breaking an axle shaft, I backed down a tad.
Then I blipped the gas pedal, and bumped the XJ up the first ridge. I stayed on the pedal, and the aired-down faux Duratracs clawed their way up the rock. The top was within reach. I could feel it. My friends watched with wide-eyes, prepared to see carnage or to celebrate a glorious victory.
I bumped the Jeep up another ridge, and stayed on the pedal. The Jeep crawled to the summit, and I let out a gasp and smiled. Nobody—not even I—could believe it.
The joy I felt at that moment helped me understand that the formula for off-road success is not at all about how modified your rig is or how difficult your trails are. The formula is simple: find the limits of you and your rig's capability, and challenge them.
Continue to surprise yourself with what you and your beloved machine can do, and you'll find yourself with a smile from ear to ear.

As my team tried harder and harder obstacles, I was continually amazed by what the ol' girl could climb. I kept testing the XJ's limits, and now, four days later, I am still grinning in amazement.
Midnight Run On Hell's Revenge
Seven Mile Rim was great, but the midnight Hell's Revenge Trip was unforgettable.
As I was sitting at Moab Brewery last Wednesday night having a drink with some friends, I sent a random text out to an old off-road buddy to see if he wanted to join us. "What's up with you tonight?" I asked.
His response: "Hells."
I immediately grabbed my keys, told my friends to pay my tab and to wait out front. I sprinted a mile to my XJ, gassed up, picked up my friends from the brewery and headed to the Hell's Revenge trailhead.
I was quaking in my boots, as my off-road buddy had a supercharged JK Wrangler on 40-inch tires and huge axles. "Surely there would be some other moderately-built rigs there," I thought.
Nope. Not really. I got there, and almost everyone had monster tires and beefy axles. Every single vehicle had lockers except mine. Needless to say, I was a bit anxious, despite the fact that I had driven Hell's revenge in a new Jeep Cherokee KL a few years prior.
It was nearly midnight, and my Jeep cost about three percent of the least-built rig out there, a stock Jeep Wrangler Unlimited Rubicon. So I stuck behind the JK, thinking I could probably keep up with him.
I was right. Boy was I right. Not only did the XJ keep up, it seemed to flat-out out-perform the $40,000 Wrangler. The four-door JK struggled to climb ledges, encumbered by its enormous 116-inch wheelbase. The beast's gigantic belly crashed on the rocks with a loud bang, as all four wheels struggled to cling to the red rock.
My beater, with its 101-inch wheelbase, climbed ledges with almost no wheelspin and no drama. It took lines that even the JK driver decided to bypass. Project Swiss Cheese was a beast, and it was hanging with the big-boys. Well, on this trail, at least. Perhaps if we had done Hell's Gate, it would have been a different story.
Hell's Revenge is know for its extremely steep, long slopes. Many were so steep, that when climbing, I could only see the moon and stars above. Was I about to drive off a cliff? Why did my headlights suck so badly? Was I about to rear-end a Jeep stopped at the top?
To all of these questions, I had no answers. But I just kept crawling, rooting for my little XJ all the while.
The downhills were even more sketchy. The tires chirped as they lost grip, switching from static to kinetic friction.
But despite the fact that it was pitch dark, that I had a severely under-built rig compared to my compadres, that my headlights thoroughly blew, and that there were enormous drop-offs all over the place, I could at least take solace in the fact that I knew my Jeep wasn't going to get me killed.
Why? Because I had built it. I knew every square inch of my Jeep. I had replaced the entire braking system, the suspension, the cooling system. I had spent hundreds of hours under that Jeep, cursing like a sailor as I broke bolts and fished small rust particles from my eyes.
That peace of mind in knowing that every bolt and brake line fitting was tight gave me confidence, and the Jeep did Hell's Revenge like an absolute champion.
I received compliments from other Jeepers in the group who were amazed that my little $600 XJ took the trail with such ease. I gave Project Swiss Cheese a couple pats on the hood, thanking it for being such a trooper.
Fins N Things
Fins N Things is a moderate trail, but that doesn't mean you can't have a blast on it. My friend Bobby, in the picture above, was a novice at off-roading before this trip, but he hopped behind the wheel of the XJ and had a smile across his face the whole time.
"But it's such an easy trail," the hard-core Jeepers will undoubtedly say. My response: that doesn't matter.
What matters is that you try something that you don't think is possible. Test your team's bounds so you can learn and get better at off-roading. In this case, the team was my $600 XJ and my friend Bobby.
Bobby challenged his limits throughout the trail, scaling up steep slopes and sliding down sharp grades. The Jeep did Fins N Things with absolutely no drama, except for a light scrape on the trailer hitch here and there. The same cannot be said about the four-door Wranglers behind us, which occasionally dragged their bellies on the rocks.
Still, even though these Wranglers behind us were highly modified and running on one of Moab's easier trails, you could tell the drivers were learning and testing their skill, pleasantly surprised each time their Jeep scaled to the summit of what seemed like Mount Everest.
And that's the whole point.
Wrenching On The XJ
Through all four days in Moab, I didn't have to do much to the Jeep. That's good, as it was my ride home, though you could also argue that it means I didn't off-road it hard enough.
Regardless, the only moderate wrenching we did involved bleeding the cooling system. There were still some air bubbles in the radiator hose, which caused the temp gauge to rise when the Jeep sat at idle. So Freddy squeezed some hoses, I poured in some coolant, and all was well.
There was also this "clunk" coming from the front left side of the car. I tried my darndest to figure out what it was. The U-joints and bearings were fine, the ball-joints were good, the lugs were tight. I never did figure out the problem, but it never ended up being an issue.
Aside from bleeding the cooling system, replacing a fuse, topping off all the fluids, and installing the transfer case skid plate that I had been to lazy to install at home, wrenching in Moab was limited.
Wrenching on the drive back from Moab, however, has been a different story.
What's Next For Project Swiss Cheese
After beast-mode-ing the trails, Project Swiss Cheese is on its return journey to Michigan, and so far, it's been a total shitshow. We've blown up a battery, thrown a serpentine belt on a busy highway, misdiagnosed an alternator issue, run the battery dead on the freeway, crashed on a snowy mountain road into a guardrail (only minor damage), and now I'm in Colorado Springs.
But I'm not working on my own XJ, I'm fixing my friend's, which is severely wounded (I can't bear to see an XJ in need).
More on that to come, but feel free to follow my Twitter if you want to see what's going on with #projectswisscheese. Hopefully the trek from Colorado to Kansas will go more smoothly.