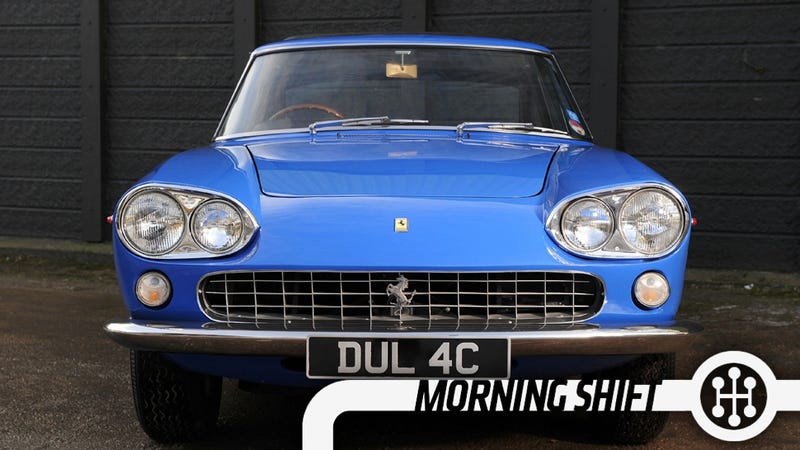 The Morning Shift
All your daily car news in one convenient place. Isn't your time more important?
This is The Morning Shift, our one-stop daily roundup of all the auto news that's actually important — all in one place at 9:00 AM. Or, you could spend all day waiting for other sites to parse it out to you one story at a time. Isn't your time more important?
1st Gear: Ferrari Like A Rock Star
John Lennon passed the driving test in February, 1965, and as the story goes he bought a Ferrari almost immediately. Specifically, he bought this lovely azzuro blue Ferrari 330GT 2+2.
It's for sale, again, according to The Wall Street Journal, who noted that Lennon paid $10,000 ($171,000 in inflation adjusted dollars) and today the car is expected to take in somewhere between $280,000 and $343,300 at the Bonham's auction in July.
Anyone else think it should be worth more? I know these aren't GTO's, but they're lovely cars and this has a great story.
2nd Gear: Ford's Investors Want A Bigger Voice
You'd think Ford shareholders would be happy to have a piece of the company which, relative to their Detroit neighbors, has done fairly well. While they're generally pleased, they wouldn't exactly be shareholders if they didn't have some sort of special demands.
In this case, as Alisa Priddle reports, a group of investors wants to end the dual stock structure that gives Ford family members 16x the voting power of a regular share. They also voted to end special shareholder meetings that don't include the board or members of management.
The first failed, with 33% supporting it, however given that 40% of the stock is held by the Ford family, that means that better than half of the regular investors oppose it. The second succeeded with 80.6% opposing special meetings.
But, given how everything's going, Piddle describes the event as "bland, uneventful."
3rd Gear: More Challenges To Driverless Cars
Another day, another challenge for driverless cars. As Karl Henkel points out, the web of bureaucratic oversight and our lawsuit happy society is going to make it a challenge.
It's because of the country's bureaucratic legislative system and lawsuit-happy society, which could stymie the pace of autonomous vehicle growth through driving restrictions or endless lawsuits if self-driving cars are involved in accidents. "If there is some sort of incident that happens … that's going to slow the whole deployment down," said Jim Hall, analyst with 2953 Analytics LLP, during an Automotive Press Association panel on Thursday.
Jim is one of the smartest guys around Detroit so he's worth a listen, although I think we'll ultimately see these issues resolved.
4th Gear: Infinti Adds An American Design Director, Japanese Head Of Product Planning
Infiniti is a global luxury brand and thus it needs global leaders, adding Nissan powertrain specialist Toshihiro Hirai as the brand's global head of product planning, and American Alfonso Abaisa (also of Nissan) as the global head of design.
The brand, with new names, will continue to form an identity and these two gents will be largely responding for making that happen. You can read about Albaisa over at Car Design news.
5th Gear: Asian Exporters Having A Rough Go Of It
The devalued yen isn't just making it great to be a Japanese carmaker, it makes it terrible to be an exporter of goods basically anywhere else in Asia, as Bloomberg explains.
The MSCI Emerging Market Index dropped this week as Samsung reported issues and the yen breached 101-per-dollar for the first time since 2009.
This will impact South Korea the most, of course, which means Hyundai and Kia.
Reverse: Wolfgang Porsche Born
Dr. Wolfgang Porsche was born this day in Stuttgart in 1943 and went on, like his father and grandfather, into the family business of building and selling cars. His path was an interesting one that included importing Yamaha bikes to Austria in the '70s before moving over to Daimler-Benz in Stuttgart.
Finally, in 1978 he was brought over to the Supervisory Board of Porsche AG, to which he was appointed chairman in 2007. Then a bunch of stuff happened not quite as planned and Porsche landed on the Volkswagen AG Board.
He currently lives between Salzburg and a giant Alpine organic farm. As you can see in this photo, he's a good Milford Man.
Neutral: Which Rock Star Car Would You Want To Own? The Hendrix Elan? Clapton's crazy Boxer 458?
Photo Credit: Getty Images/Bonham's