Every so often, there are drivers who burst onto the racing scene with all the brilliance of a supernova, dazzling everyone they come across only to fade off into the distance just afterward with no traces left in the history books of their brilliant presence. Dutch racer Liane Engeman was just one of those people.
It's hard to believe that Engeman's story is actually real. Born in Haarlem in The Netherlands, her racing career started almost entirely by accident. While waiting for the bus, Engeman was offered a ride by Rob Slotemaker, a rally driver on his way to Zandvoort. Engeman had mastered driving by the age of fifteen, since she was one of the drivers for her father's taxi company; at Zandvoort, it was just a matter of learning the craft of racing.
Once she ended up at Zandvoort, Engeman was loath to leave. She bought her first race car, a Mini, and brought it out to the dunes any time the circuit was open for business.
Her official racing career started when she was nineteen. While there aren't many records of how she ended up there, Engeman started racing in Formula Vee in the Netherlands in the 1200c class. The competition wasn't great for her, though; racing wasn't quite the phenomenon in the Netherlands that it was in, say, Great Britain.
G/O Media may get a commission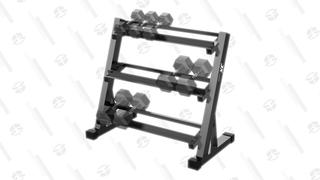 20% Off
JX Fitness Dumbbell Rack
Gains but tidy
Has a three-tier design to help store more weights more conveniently, can safely support up to 1000lbs of weight, which should be enough for most people, has a triangle base for stability, and also features anti-scratch feet which is great if you've built your own studio or workout in your garage.
So Engeman packed up, and off she went to the UK. She immediately joined Alan Mann Racing in 1966 and dived into the British Saloon Car Championship racing Minis and Hillman Imps. Her performances weren't mindblowing, but enough consistent top-five finishes made this mysterious blonde racer the talk of the paddock.
Doors started opening for her. She dived into Formula 3 and was invited to take part in the 12 Hours of Sebring with Janet Guthrie in '67—alongside a wealth of other races. Engeman and Guthrie took home 23rd place that year behind the wheel of a Matra Djet 5S, an impressive performance for two drivers in a poorly funded race team. Off she went to Speed Week in the Bahamas, where she took home third place in the Formula Vee race, followed soon by a fourth place in the European Touring Car Championship.
Being a female driver was both a blessing and a curse. Engeman started taking part in iconic races like the 24 Hours of Spa and the 12 Hours of Sebring, but often only alongside other female drivers. While women like Guthrie and Christine Beckers were incredibly capable drivers, the only teams that would take them on weren't well-funded and were often more interested in the publicity they'd gain. Engeman often wasn't able to finish races due to car trouble—but when she did, her performances were consistently landing her within or just outside of the top five of her class.
In what began to become a whirlwind of travel, Engeman knew she needed a break. In 1970, she opted to race almost solely within the Netherlands after signing with the Frami Racing Holland team. Their focus was, perhaps obviously, the Zandvoort Trophy Championship. Her dedication saw Engeman taking home a fourth place in the overall championship in a Ford Escort in Class Three. It was the kind of boost that her career needed.

She signed on with multiple teams in 1971 and, while she was still based mostly in her home country, Engeman took part in races in France and Italy—most notably, the Targa Florio street race. Her starting and finishing positions aren't noted, but we do know she competed in a Porsche 911—a car that had been plagued with issues for the duration of the event.
Ford saw potential with Engeman, and it was with them that she raced for the '72 and '73 years. Her results here are also not well known. She competed at Hockenheim, Monza, and, of course, all around the Netherlands. She contested the Dutch Touring Car Championship, the Trophy of the Dunes, and the Reopening Race.
And then—that was it.
Engeman wasn't necessarily a firm believer in the nuclear family. She understood that it would be difficult to juggle both a traditionally feminine personal life as well as a racing career and, at the start of her racing life, she mentioned that she wasn't interested in marriage because that would only lead to children, and that would lead to a speedy retirement.
That said, Engeman married twice—first in 1969 to driver Keith St. John, then again in 1972 to businessman Piet Hein Keijzer, who owned a carpet chain. She still didn't have any intentions to settle down for the family life.
But her unintended pregnancy in 1973 saw to the end of that. Birth control wasn't as widely used in the early 1970s as it is today, and Engeman saw her pregnancy as a sign to settle down. She fell off the radar soon afterward. Rather than try to continue racing, she chose instead to foster an air of privacy for her family so that her children could have a relatively normal life. Very little is known from there—she gave birth to twins and moved to Marbella, Spain in 1980. She's still alive, but she hasn't spoken to the public in years.
Engeman's path through the sport is a unique one. She displays one of the difficult conundrums that women in racing face: that of the different roles women are intended to play in society. While there are plenty of male drivers who have been able to juggle family life and racing, it's far more difficult for a woman to, y'know, race a car while pregnant. And with that extent of physical and emotional changes, a female driver might be out for a season at least.
It must have been a difficult situation for Engeman. Her future was suddenly branching off in two very distinct directions and she was the only one who could make her choice. And while it is in some senses quite unfortunate that we'll never know what Liane Engeman could have become behind the wheel, but she also deserves respect for choosing her family. Juggling a career as taxing and dangerous and motorsport while trying to provide for a family can be demanding for everyone involved.
But it's still important to remember Liane Engeman and the brilliant spark of success she created in the world of racing.