For years, Toyota CEO, racer and general speed enthusiast Akio Toyoda has wanted to shake his company's staid image—in particular Lexus, a brand that runs against top-shelf performance automakers like BMW, Audi and Mercedes. In Detroit yesterday, he fired his biggest shot in that direction with the stunning LC 500 coupe, soon to the brand's new flagship car.
In the current automotive climate, it's an almost incomprehensible choice. The market so heavily favors crossovers and SUVs, and hybrids and electrics are widely regarded as the future. But Lexus' new flagship is a big, expensive coupe with a wild design and an old-school naturally aspirated V8 under its hood.
Then again, the best ideas often don't make sense.
Lexus design manager Tadao Mori and chief engineer Koji Sato both intimated that the car was a labor of love, one that sticks shockingly close to the Lexus LF-LC concept. In a world dominated by crash safety standards and bland normality, that's increasingly rare—but that wasn't easy.
G/O Media may get a commission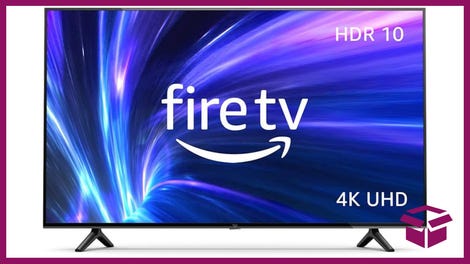 42% Off
Amazon Fire TV 50" 4K Smart TV
"It was really hard, actually," Mori told me with a laugh. "The concept, we didn't think anything about engineering, really. It was just a design study. Production was totally different."
We'll have a detailed breakdown of the differences between the two later, but the production car ended up longer and taller than the concept. Thank safety regs for that.
Still, it's a striking machine, and one with classic sports car proportions: long hood, low roofline, short boot. The rear fender flares make that part wider than the front, and it sits on largest-in-class 21-inch wheels.
Yes, this is the production car, not a concept. It's nearly every bit as shocking as the LFA was, just with a more reasonable engine, architecture and price tag—about $100,000 instead of $375,000.
Up front there's the signature Lexus spindle grille, but it's much lower than on other Lexus cars that have adopted it of late—and better integrated, in my book. Elegant and sporty, Mori called the whole package. "Organic but with precision," in that flowery language car designers like to use. However you want to describe it, he says it's the evolution of the Lexus design language, and one that will influence future cars.
That's true mechanically too. The LC 500 uses an all-new rear-wheel drive platform, a modular platform like Volkswagen and BMW and others have adopted, that will underpin various future Lexuses of different sizes.
Both Mori and Sato were extremely coy about what future cars may use this platform, but it's not inconceivable to imagine it in a big sedan, perhaps the next LS or something similar. (But what about that sports car joint venture with BMW, said to be the next Supra? I suppose time will tell.)
Sato said that this time around, the focus was on driving dynamics. "It's back to basics," he said. Torsional rigidity, natural behavior on the road. He stressed it's a performance coupe, not a cushy cruiser. One could easily see it taking on the S-Class Coupe and SL; other competitors, he said, include the BMW 6 Series, Maserati Gran Turismo, and even the Jaguar F-Type.
But perhaps the biggest surprise is that engine. Lexus eschewed a hybrid drivetrain or even turbochargers to stay with the proven 5.0-liter V8 with 467 horsepower. Sato explained the reasons for that.
"This V8 engine has character," he said. Unlike so many turbo mills, it loves to be revved and puts out a ton of power in the upper part of the RPM range. He added, "it will have a great engine sound, too."
Power goes to the rear wheels via an all-new 10-speed automatic paddle-shift gearbox. While it's a conventional auto and not a DCT, Sato said it happens to have the smallest and lightest torque converter in the world—and it can do shifts in a very quick 0.2 seconds.
All in all, it's hard not to be impressed with the LC 500. It will be months before we can get behind the wheel of one, but at least from where I'm sitting, it seems Akio Toyoda and the Lexus brand are finally putting their money where their mouths are when it comes to fast and interesting cars.
---
Contact the author at patrick@jalopnik.com.