The loop, the Autobahn that takes you to 300, starts with a street always clogged with traffic.
It's a pain, but that city street only makes you more antsy for the highway. When you do turn off and get on the first stretch of Autobahn, it's limited to 120 km/h. There you're really only warming up the engine. And then there's a long right hander, and the road opens up.
We're already well over 200. 220. 250.
And the droplets of rain start to streak up the windshield.
A silver Golf seems to rocket backwards next to us.
The road begins to roll up and down, and just so barely leans from side to side.
There's a bit of a rise. If there's a car hiding in the left lane, we'll have to push deep into the brakes, high beams flashing, just like we did two times on yesterday's run.
But we crest the rise and there's no other car in the left lane.
The road reclines and the numbers on the dash tick up to the 300.
Finally, calmly, spectacularly.
G/O Media may get a commission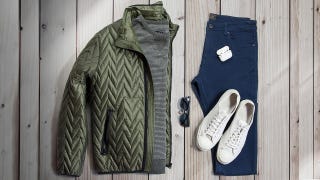 60% off
Jachs NY Fall Sale 60% Off
I'm in the passenger seat of a brand new Panamera GTS (pictured above) with Christopher Kippenberger (also pictured above, as a ghost) at the wheel. If you're not familiar with Kippenberger, he's the guy I called the most interesting man in car porn, who worked up from murky LA film editing studios to road tripping to Lake Como in a Bentley Mulsanne. Here's his show reel, to give you a feel for his studio.
Chris put me up while I was on vacation in Berlin, and we had decided to try out a new test route along the unrestricted stretch of A10 Autobahn just south of the city.
The first road leaving town is always stuffed with cars, and the A113 off of that has a 120km/h limit, but it's all worth it for the clear, open runs down the A10. Sometimes you're stuck behind bitter asshats in BMWs and Mercedes R-Classes hogging the left lane, and sometimes there are just too many vehicles on the road to go much faster than the flow of traffc. But sometimes the A10 is as clear as you need to cruise at 280 and climb upwards to 300 when the car desires it.
It's a strange feeling up there around 300. It's not that it feels calm, it's not that it feels like ordinary driving but with the white lines rushing by a little bit quicker. You can hear the wind rushing with a kind of eager intensity. That said, it's not that it's sketchy or scary. And I know a bit about sketchy high speed runs.
I remember when I tried to find the top speed of my parents' Volvo 240 wagon. I'd gone out for a long drive with my then girlfriend, and there was one long, long straight stretch of two-lane, undivided highway on the way back, a town and a half from home. I remember the low barbed wire fence just past the narrow ditch of a shoulder. Beyond that waited the chalky brown of the empty fields on either side of the road, waiting for us to crash. I remember the road being crowned, and a little rough, and multicolored with patches and cracks in the surface.
We rolled the windows up on the warm evening and I let my foot go to the floor. I intended to keep it there until there was no more speed to find.
There wasn't anyone else on the road for miles, but somewhere around 90 I lifted. The engine felt like it had a few more miles an hour in it, and there was enough open highway to pull it out. But it felt like the wheels were going to come off. I could feel the barbed wire fence on the right reeling the car in, like it had a kind of malicious gravity. I could see the wreck in my mind's eye, her blonde hair suddenly whipping violently in a spin and deep, terrible guilt filled me up until it pulled my foot off the accelerator.
That arrow shot of 113 between the Sacramento Delta and Dixon, CA was no Autobahn. And the Volvo wagon was no Panamera. And I guess you could say I'm no Kippenberger.
The Panamera felt absolutely planted, but it does take some nerve to enter even a sweeping bend taken cut across two wide, empty left lanes at over 200 km/h. That is, however, how you have to take that turn if you want 300 on that first stretch on the A10.
We didn't try anything like that when we were in a brand-new 911 Carerra S two nights before. It's not that the 991 couldn't do high speed. We rumbled at 296, 297 for what seemed like days on one clear, more southern stretch before we backed off.
But to do that speed in the 911 felt like real work. The front end didn't wander around so much as it bobbed. "It's like a Boston Whaler," Kippenberger said. I'm not going to say it was as bad as the Volvo, but the end result was similar. Many times we saw Renault Trafic vans bobbing in the right lanes or felt the rain coming down too hard and instantly agreed not to push for that soul-affirming 300. Either you feel absolutely confident in the car on the road, or you don't. One does not press the envelope when you have passengers, when there are other humans on the road, or if there is more than a breath of doubt.
There was a time when I did feel absolute security on the highway. I remember running errands with my mom as a little kid on hot, all-bright summer California days. Heat would radiate from the highway pavement as our old Volvo or white '92 Camry made the short trip to Sacramento for Capitol Aquarium or whatever else. There was absolute certainty in where we were going, and how we would get there on those heat-soaked errands.
We had two little plastic briefcases that rode in the car: one blue, one green, both filled with tapes. I remember The Drifters and Sam Cooke and Paul Simon's Graceland as we slowly crossed the flatness of the Central Valley farmlands.
"It's like, these are the days, you know?" Kippenberger says. "This isn't going to last forever." The V8 has quieted down and the car feels absolutely settled at 280, 270, 250.
He's right. These are the days of miracle and wonder, of four-door cars that sit composed at 186 miles an hour — stock, family cars, with the shopping in the trunk. There was a lint roller on the back seat that never even moved.
I don't know if I'll ever find myself at 300 again. I don't know if I'll ever relive the road straightening out, as sunlight pierces dark clouds, illuminating the spray from slower traffic, giant windmills turning over the landscape, the V8 pulling ahead.
It felt like driving into a video game. It felt like driving into the infinite. It felt like reality had washed off in the rain.
I don't know where I'll be in a year. I don't know what I'll be, or how far out of reach 300 will be.
I don't think my world will ever feel as secure as those orderly California drives as a kid, rows of brown farmland ticking past under the domed blue sky. But in that Autobahn run in the Panamera, for a few minutes at least, it felt like there could be nothing but speed, and security, and success.
These are the days, indeed.
Photo Credits: Raphael Orlove/Raphael Orlove on Kippenberger's phone