The Morning Shift
All your daily car news in one convenient place. Isn't your time more important?
This is The Morning Shift, our one-stop daily roundup of all the auto news that's actually important — all in one place at 9:30 AM. Or, you could spend all day waiting for other sites to parse it out to you one story at a time. Isn't your time more important?
1st Gear: Is This The End Of The TSB?
Don't want to do a recall but want to make sure most of your customers don't die in a terrible crash? Issue a Technical Service Bulletin!
According to this Businessweek article, that's basically what GM did to address their Cobalt recall.
G/O Media may get a commission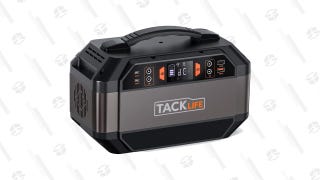 Tacklife Portable Solar Generator
GM reportedly sent one to dealers in 2005 and 2006 telling dealers to tell their customers to maybe 'take the tamagotchi off the keychain bro' and maybe put in an insert to prevent key jiggling.
Not good. While TSBs for very minor things like a radio that always resets to Vietnamese talk radio are a good way to avoid the nuisance and cost of a recall, that doesn't seem adequate for safety. People should at least know. Thankfully, there's a new policy to publish all TSBs. But…
A 2012 law required NHTSA, which receives copies of these nonpublic communications, to make them searchable for the public by 2013. The agency's regulation, issued last year. didn't fulfill that mandate, according to a Washington-based research group called the Center for Auto Safety.
So, yeah, that's a thing.
2nd Gear: GM's Stock Will Maybe Be OK, Guys, Don't Worry
Now that people are probably going to stop dying from this issue soon, let's get to the important news: How will this impact GM's stock price.
Great News! Even though the stock is down, investors and analysis have a good feeling it'll only be a temporary setback. What Lady Macbeth didn't know is that the only way to get out the red stain of blood is with an infusion of green.
Still, investors, a hard-nosed fickle bunch, pushed GM shares up on Monday. And Citi Investor Research predicted any stock malaise would be temporary and said share price would increase to $48 when the recall settles down, or by 38% from Monday's closing price of $34.63.

Recalls tend to hurt auto company market values when actual production is affected and not for liability issues, however onerous they might appear. The vehicles affected by the recall are no longer in production.
We'll see. Have we fully rooted out all of the old-GM stupidity yet?
3rd Gear: In Other Recall News
More than160,000 Passats will have to be recalled, says Reuters, who indicate it's possible the low-beam headlight in 2012 and 2013 models could stop working.
Basically, a vibration can cause the bulb connector to lose its electrical contact and thus stop working. Damn, how big are these keychains you're using America?
So far no deaths or accidents have been linked to this.
4th Gear: VW Getting Vandemonium!
Dude, I love vans, so this report from Bloomberg about vans in Poland just makes me happy.
VW will invest $1.1 billion in a new van plant west of Warsaw to build the awkwardly-named Crafter, which is basically their equivalent of the Sprinter/NV2500/Promaster/Transit. Speaking of, all of those vans are sold in the United States except for the Crafter.
Hmm...
5th Gear: The Real Fallout From Crimea
Ford says it may halt production in St. Petersburg because of what's going on in Ukraine and because of Russia's shitty economy, which is only going to be made shittier by what's going on in Ukraine.
"The ongoing weakening of the ruble puts additional pressure on the Ford Sollers business," Ford Sollers said in a statement. "As always, we are constantly monitoring the overall economic situation and will act according to the changing environment."

The Ukraine crisis has created turmoil in global markets, especially in Russia, and worsened the economy and car-buying environment. The Moscow Exchange Index has plunged more than 17 percent since the unrest began. The value of Russia's currency, the ruble, has fallen by about the 10 percent this year, which has caused the country's central bank to hike interest rates. GDP growth is expected to be minimal this year.
Reverse: Bankruptcy Isn't New
On this day in 1933, American automaker Studebaker, then heavily in debt, goes into receivership. The company's president, Albert Erskine, resigned and later that year committed suicide. Studebaker eventually rebounded from its financial troubles, only to close its doors for the final time in 1966.
Neutral: TSB's For Safety Issues
Necessary? Unnecessary? Abused? What are your thoughts?
Photo Credit: Getty Images