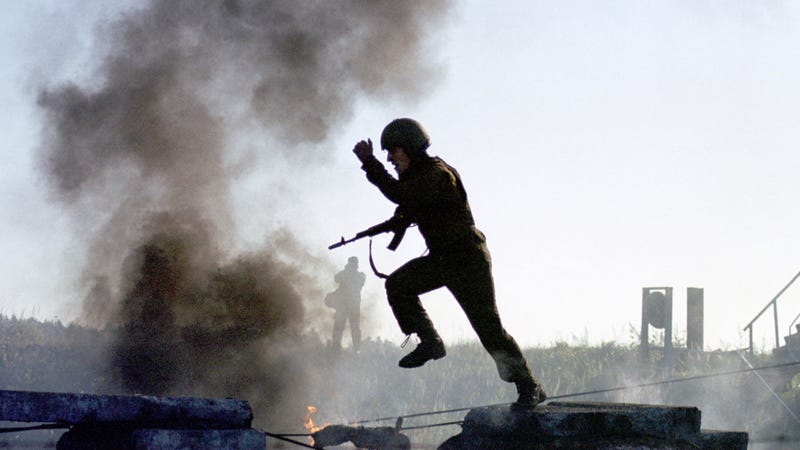 Welcome to Must Read, where we single out the best stories from around the automotive universe and beyond. Today we've got reports from Ate Up With Motor, Car And Driver, Wired: Autopia, The Truth About Cars, and Foreign Policy.
Maybe they've been playing too much Call of Duty: Modern Warfare?
RUSSOCOM's mission would be to intervene early enough to prevent incipient conflicts from spreading, destroy armed groups before they take over population centers, eliminate terrorist camps, disrupt drug laboratories and drug traffickers' logistics, and so on. To be able to achieve any of this, the command will need to have its own intelligence-gathering and assessment capabilities and an organic and wholly-owned means of power projection. Of course, to do this effectively, Russia will have to devote much more attention to close interaction with its nominal allies in the region, which it still sometimes treats as ex-provinces of the realm.
Tesla, for all that's revolutionary about the company, still loves the misleading fine print like a carmaker ten times its size.
The calculator still lists the available state tax credits for EVs, including the $7500 monster (on top of the $7500 federal credit) in West Virginia. Take a quick trip down to the fine print and—huh?—the lease program isn't available in West Virginia.
I've always loved these.
If the W113 wasn't exactly a sports car, what was it? Perhaps its nearest analogue was the original two-seat Ford Thunderbird: a sporty-looking "personal car" that emphasized dignity and comfort over outright performance. Of course, the Mercedes was a good deal more expensive than the T-Bird, but the two were certainly similar in concept. There was no doubt that the shift in emphasis was deliberate; Mercedes-Benz in this era was nothing if not sternly rational. To understand their reasoning, we must step back a few years to introduction of Mercedes' four-cylinder 190SL in the mid-fifties.
Is it better to tax electric cars or do as much as possible to get people into the cars, infrastructure be damned? Maybe a flat tax?
Eager to recoup some of the money lost to those opting for zero-emissions motoring, the state of Washington is slapping people with a $100 annual tax for driving an electric like the Tesla Model S, Nissan Leaf and anything they've cobbled together in their garage. However, plug-in hybrids like the Toyota Prius Plug-In and Chevrolet Volt, with its range-extending engine, are exempt from the tax (so are neighborhood EVs that can't exceed 35 mph), mainly thanks to automaker lobbying.
But so long as VW wants to buy it, Fiat will keep it.
Having moved 17,545 cars across 29 countries in that period, Alfa is being beaten by such storied nameplates as Mitsubishi, Smart and even struggling, Lancia/Chrysler. SEAT, VW's ailing brand which gets its share of criticism for having no direction or identity, is crushing Alfa, having sold just under 70,000 units so far.