The other day I suggested that there needs to be a proper motorcycle shop in the city of Detroit. There isn't yet, but I discovered something else (better?) this weekend: A moped shop, dealing almost exclusively in classic models.
It started with a Facebook friend request, message and event invite — in that order. A guy named Alexander Samul hits me up, says he's read my post and that he's got a bike shop, and there's a repair shop two blocks away from him. Then I get the invite to "You Probably Won't Get Murdered," a three-day vintage moped rally in the city of Detroit. It's the first time for this event.
"You Probably Won't Get Murdered." How many times have all of us here said this to anyone visiting Detroit? To my knowledge, everyone I know that has visited here — and I've hosted quite a few — has not been murdered yet.
G/O Media may get a commission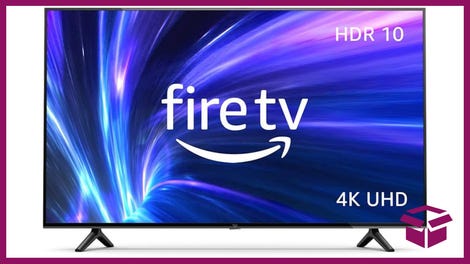 42% Off
Amazon Fire TV 50" 4K Smart TV
But even more interesting is this whole vintage moped thing. I'll be honest and admit that my knowledge of mopeds doesn't go beyond the Archie comics I read back in the day. It always seemed like a cool, little thing to have around and ride through the mean streets of Riverdale on the way to Mr. Lodge's house, but here in real life? It feels like everyone in Detroit is either on a bike or a hog. Or maybe a ninja. Either way, I didn't think mopeds fit into this situation.
I decide to hit up Detroit Moped Works, the shop Samul co-owns with Ted Silwinksi. It's on Michigan Avenue in Southwest Detroit, between the Slows part of Michigan Ave and the strip clubby not-yet-Dearborn part of Michigan Ave. I get lost going there; there's a storefront nearby with loud Latin rock blasting and partygoers speaking Spanish. This can't be the place, but then again it could. Anything is possible in Detroit. But I eventually find my way to the right place.
I get there, and I see lots of dudes in leather vests. The blue hoodie I got at Burlington Coat Factory two years ago is already out of place. But I'm welcomed in anyway; we'll always be hospitable Midwesteners, no matter what the scene.
Detroit Moped Works is housed in an older storefront that's part of what used to be a booming strip. But like every used-to-be booming strip, the vacant former flower shops and boutiques now have new life with risk-takers making good with the gorgeous woodwork and solid plaster walls that hold up against all odds. Almost every new business in the city is in a space like this and Detroit Moped Works, which opened about three months ago, is no different.
There's a DJ spinning dance downstairs and people checking out the dozens of mopeds on display — all vintage — upstairs. So how does a place like this work in Detroit?
"People are really tired of paying high car insurance," Samul tells me. And you don't need to insure a moped in Michigan.
There's been lots of press about millennials not being able to afford cars and moving to walkable neighborhoods and shit. That's not the reason why they're popular here. Detroit is a huge city with a ton of neighborhoods that aren't all walkable. Say you need to get from Old Redford to Eastern Market? A fixie would wear strengthen your calf muscles, but a moped would get you there without the soreness.
The curiosity from new moped owners is built on the enthusiasm on older ones. In the heyday of the moped, the little cycles were built in factories in Ohio, many of them being sold at JCPenney and Sears. They were cheap; lots of people bought them. And lots of people stopped using them, leaving them in garages.
Samul started collecting old bikes from Craigslist and garage sales and forming a club with other moped riders in a building he and some friends bought on Fort Street closer to downtown. ("We got it for a steal," he says — our commercial buildings are just as cheap as our houses!) Samul also repaired bikes at Omnicorp Detroit in Eastern Market, where he met up with Silwinski.
As the club grew to host events for moped enthusiasts across the Midwest, Silwinski was building his career and rep as a bicycle fixer, eventually landing a gig as head retailer at Shinola. Shinola, as you know, is singlehandedly turning Detroit from Motor City to Expensive-Ass Watch City, one Bruce Weber photoshoot at a time.
Samul was getting flooded with moped-repair requests and eventually moved into moped sales as a side gig, finding more and more barn finds and dead stock in Ohio. Silwinski was getting "bored out of my mind" at Shinola. Silwinski quit his job at Shinola — "You don't want to save Detroit anymore?" I asked — and he and Samul bought another building. Detroit Moped Works was born.
"That's a crazy motherfucker," one admirer says, fawning over one of the bikes on display in the front room. Turns out he just bought it from Samul a few days earlier. "He did this one up for me."
Because so many mopeds were built and sold in Ohio, the bikes have a strong following there and in neighboring states. It's reflected in the attendance at the DMW party; some people here for the rally are as far away from Colorado.
For the rally, it was only $5 per person, which covered beer and food. Lodging was provided at a discounted rate at the Corktown Inn, one of the few legit hotels in town.
"That's high-end shit. I'm sleeping in my van," one moped rider from Dayton, OH, tells me. "The Corktown Inn is high-end?" I want to say. But he's not from here.
This guy is born and raised in L.A., but somehow ended up in Dayton. He doesn't know jack about Detroit. "Where are we right now?"
"We're in Southwest Detroit," I say. Someone else mentions the Mexican-Italian place nearby. You can't talk about Southwest without talking food.
"Yeah, there's a lot of Mexican restaurants here. It's a very Latino part of town. They're speaking Spanish next door!" I say, dancing on that very awkward line between simply explaining the demographics of our surroundings and "wait, is this racist?"
"Do they have black-on-black crime here?" the guy asks. He's black, I'm black — this question is legit.
"I mean, yeah — just because," I say. Detroit is 83% black; if I smack any of my neighbors upside the head, technically that would be black-on-black crime. This is unspoken and understood.
"What about Latino-on-black crime? I'm from L.A., it happens out there!" he says.
"Eh, not so much. Everybody pretty much gets along, I guess," I say.
"Do you ride mopeds?" he asks.
"Never rode one. My dad rode motorcycles, but I don't know — it's just the fear they'll tip over or something," I say. I've explained my hesitation with non-automotive vehicles here before.
"You should. They're fun, they're silly, they're dorky. I've been riding them all my life," he says.
I keep hearing this a lot — "they're fun and silly." I don't doubt that. And I really want to. But I didn't take advantage this weekend — mainly because I wasn't going to be the guy to fuck up somebody else's moped trying it for the first time. But it looked unifying in the same way so many other recent movements in Detroit have been.
Lots of people were getting drunk, but nobody fought. Lots of people had stuff to show off, but nobody was talking shit. The older people there were not telling the younger people about how horrible their generation is — or vice-versa. And who doesn't like good, cheap fun? What other city in the country can offer these experiences all at once?
If you know any cool, weird things I should be writing about in or around Detroit, hit me up at aaron.foley@jalopnik.com.