Volkswagen's Transporter-based pickups are rare enough, but a Syncro drivetrain and a diesel makes today's Nice Price or Crack Pipe Canadian '86 even more rare. Will its price however, prove all too common?
Canada may soon go to war with the United States. It will all come down to how the American company, Burger King handles its acquisition of the Canadian institution that is Tim Hortons. If the American fast-food chain changes the quality of Timmy's coffee, or somehow holds their tasty doughnuts hostage, swords will be raised. Hell, the Canucks are already picking out airplanes!
That would be eff'd up, not only because Canada is one of the last remaining nations that seems able to put up with us, but because it would probably mean U.S. A-ians couldn't just pop across the border and snap up cars like this way-cool 1986 Volkswagen T3 Syncro Pickup. In case you're unfamiliar with VW's all-tire spinning vans and trucks, there's a good history to be had here, (but come back).
Offered up by a dealer in Cornwall Ontario, this fly yellow over black four-by-four has it going on. No, it's not the even more desirable Doppelkabine, but it does rock both a 4-speed stick and a 70-horse 1.6-litre diesel four.
G/O Media may get a commission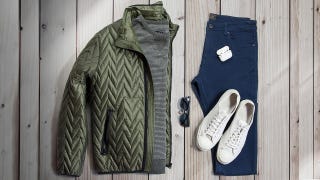 60% off
Jachs NY Fall Sale 60% Off
It also has a raised bed cover that will let your friends in back feel like they're heading to the front when riding back there. You know, for when Canada and the U.S. start a ruckus. That cargo cover appears to be in pretty good shape, while the rest of the truck looks a little beat up. It's not too bad, but the rockers on both sides, and particularly the whole of the curb-side, all look a little wavy-gravy.
Mechanically? Who knows. It's being sold by a dealer and they are going to tell you bupkis, even if they are Canadian, the politest people on earth. There is a lot to go wrong on the Syncro, but at least parts aren't too hard to come by now that we have the Internet. They have the Internet in Canada, don't they? I thought so.
The truck has 77,000 kilometers on the clock, and its three—across interior (just like a Matra Bagheera!) seems to be in solid shape. Hell, there's even a sunroof for easy egress should you accidentally roll it.
Since we're on the verge of war with our neighbors to the North over the whole Americans ruin everything issue, it's probably a good idea to decide whether this Syncro is worth its $12,995 price tag. Keep in mind that's Canadian dollars, which equates to about $11,940 in greenbacks, or about 3,410 Kuwaiti Dinar if that's how you roll.
What do you say about this diesel, stick shift Syncro T3 for $12,995 Canadian? Based on the ad, does that seem like a deal? Or, does that price have you itching for a fight?
You decide!
KiJiJi Ontario, or go here if the ad disappears, eh.
Help me out with NPOCP. Click here to send a me a fixed-price tip, and remember to include your Kinja handle.