Today's Nice Price or Crack Pipe Ur Quattro represents the homologation of the marque's initial entrant into Group B rally racing. It's pretty rare, undeniably cool, and its performance has long been eclipsed by lesser cars. Let's see if it's still something that you could rally around.
It may not have been a Tesla Model X (or Eh-ks in Canada), but yesterday's garage find 1972 Ford F100 did sort of have a door in back that swung up. It also went Musk's electric one better by having a tail gate beneath that which could be dropped in order to provide a place to rest one's bones.
There was a lot to like about that old truck, and a lot that frustratingly needed to be done before it could be fully enjoyed. That colored the responses, as did the not insubstantial price tag, and in the end it pulled down an extremely narrow 52% Crack Pipe loss. It couldn't go anywhere to hide its shame however, owing to, you know, all the stuff that it needs to be done to make road-worthy.
G/O Media may get a commission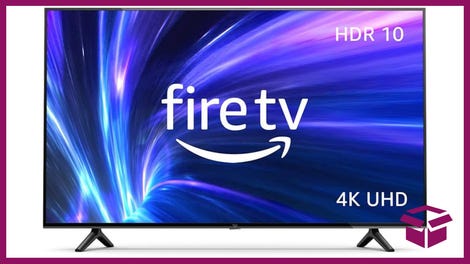 42% Off
Amazon Fire TV 50" 4K Smart TV
What's the most exciting Audi out there? If you said the R8 V10 Spyder then I pity your youth. Pity it! You obviously didn't grow up anytime close to the fabled Group B rally era, and are hence unfamiliar with the frenetically rabid rides that competed in that series where it seemed the one rule was there ain't no rules. Yep, it was like Thunderdome with cars… and no pig shit.
One of the contenders for the rally car crown back then was Audi's first attempt at all-wheel drive, the Quattro. The two-door fastback gravel pounder was built to take advantage of FISA's rule change allowing such layouts if the racer was based on a production AWD base.
This 1985 Audi Ur Quattro is a representative of just that base. We call it the Ur because Ur is an augmentative prefix in German meaning first or original, and also because generally when we see a Quattro like this we say something like "Ur, I want it!"
The particulars should be pretty well known. This is a U.S. version of the somewhat heavy coupe homologated into what would be Hannu Mikkola's Group B series winning ride for 1983. The WX five-cylinder produced 160-bhp from its turbocharged 2,144-ccs and that is fed through a five-speed manual transmission to all four wheels via a manually-locking center diff.
This one rocks 117,000 miles and comes with an extensive history of the model in the ad that reads like a waiter at a fine restaurant giving you the life history of the Wagyu beef plated before you.
Apparently it's a four-owner car and comes with a factory-color respray undertaken by number three. It also comes with an R-134-upgraded A/C, a short shift kit on the five-speed, and European glass brick lights in place of the four rec units originally spec'd. Normal maintenance, including a new timing belt has been recently completed.
That paint is a metallic steel, sort of the same color as the gun safe teenage girls' dads show their daughters' prom dates before the evening starts. You'd totally get some leg in this Audi no matter if you're the dater or the date, as aesthetically it still rocks the casbah.
The leather is in decent shape save for the driver's off-side bolster, while the dash looks to be in excellent condition and is only lacking the taxi topper for that full '80s experience. Why of why can't BMW dashes from the same era be as long-lasting?
It's quite the complete and seemingly original package, and represents an epoch on the timeline of Audi's history. But is it worth a whopping $79,950? That's up to you to decide, and now's the time to decide it. What do you think, is this clean and original Ur Quattro worth that kind of scratch? Or, for that price, is this an old Audi that you would only bid adieu?
You decide!
eBay out of Boulder CO, or go here if the ad disappears.
H/T to USA-NSA-NSFW-WTF-FFS for the hookup!
Help me out with NPOCP. Click here to send a me a fixed-price tip, and remember to include your Kinja handle.