Of all the cars in the world to take racing, the tiny, '70s-era Fiat 126 might be the least likely choice. Which is what makes the transformation by a British shop of a 126 into a 330-hp beast so impressive.
Famous mostly as the family car of choice in Communist Poland and other Eastern Bloc countries, the 126 was the mostly unloved sucessor to the original Fiat 500, featuring the same rear-mount engine design, this time with a two-cylinder good for 22 hp. In Hungary, it was known as egérkamion — "the mouse's car."
So the boffins at Britain's Retropower had not much to work with when asked to create a track car from a customer's 126 — along with the swap of the mouse's heart for a lion's, namely a supercharged Honda Blackbird 1100cc motorcycle engine, good for 330 hp.
The body fabrication shown here involved some trick CAD work. A new spaceframe holds a double wishbone suspension up front and trailing arms in the rear, and allows the 126 to get the most from its new Caterham wheels — so wide they required special flares. The most intense part of the job was mating the Honda engine with the wheels, requiring a custom-cut transaxle. The hood also took some cuts to provide airflow to a much-needed radiator.
The top style point goes to the solutions for the doors; with the hinge area taken away by the new frame, Retropower simply mounted the hinges at the back for a suicide-door approach. After starting work nearly a year ago, the 126 is almost ready for its turn at the track. You can see more photos at Retropower.
G/O Media may get a commission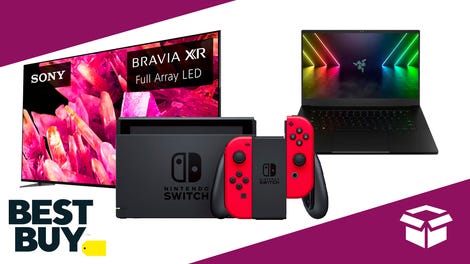 Three Day Sale!
Best Buy - 3-Day Sale