When spy shots surfaced of the pre-production 2011 Chevrolet Camaro Convertible sporting an AM/FM whip antenna positioned on the rear deck lid, mullet-wearing fan-boys began to bitch. So Chevy called in an unexpected problem-solver — a Ham radio geek.
After realizing the enthusiasts hated the idea of an R/C car-like whip antenna on the rear deck lid, Chevrolet commissioned self-described "antenna freak" Don Hibbard, an antenna test performance engineer, to find a way to fix it. "Antennas are a beautiful thing to me," says Hibbard.
Hibbard and colleague Gregg Kittinger had to do what some thought was impossible: conceal the AM/FM antenna without sacrificing radio reception. Adding to the problem is that, as Kittinger says, "Typically antennas are hidden in a vehicle's rear window, but with a retractable soft-top roof, that's not an option." So putting it inside the Camaro's windows? Yeah, that's not going to happen.
G/O Media may get a commission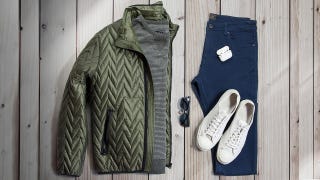 60% off
Jachs NY Fall Sale 60% Off
The two, who share three other patents, accepted the challenge despite Kittinger's belief it wasn't likely impossible.
But the two came up with a novel approach –- hide the antenna inside the rear spoiler. No one had tried that on a Chevrolet before because of the hit to radio reception.
"We responded to a legitimate criticism from devoted Chevrolet Camaro enthusiasts and in ten months found an innovative way to improve the overall aesthetics of the vehicle without sacrificing performance and quality," said Kittinger.
While the shark fin antenna that transmits XM Satellite Radio, OnStar and cellular signals is still present on the car's deck lid, the built-in spoiler antenna eliminates the need for a longer, separate whip antenna to receive AM and FM radio signals.
Hibbard, a lifelong Ham radio enthusiast, says the unorthodox placement of the antenna within the body of the vehicle created a number of technical challenges, such as balancing form by preserving the car's styling and function of unimpeded audio reception.
"Where other automakers have tried and failed, Chevy succeeded," said Hibbard. "We hope to take what we've learned with the Camaro Convertible, build on it and apply it to future vehicles."
But the main moral of the story? Mullet-wearing Camaro fan-boys will bitch about pretty much anything. But hey, Chevy will try to make them happy nonetheless.
The secondary moral of the story? When you have a girlfriend who's a licensed Ham radio operator — and knows Morse code like the back of her hand — you'll find any story about Ham radios to be absolutely enthralling.