The first time I saw a Honda 600 was likely many years ago. So many years ago that I don't remember. A few years back a for sale sign in the window of a nearby AN600 sedan reintroduced the little Honda back into the mental queue of cars. In that same window was a small sticker that said Merciless Mings. While at the 2005 Japanese Classic Car Show I saw not one or even two of these little cars, but rather an entire fleet! Also around were a few of the sportier looking AZ600 Coupe versions. A great number of these cars also had a small sticker in the window that read Merciless Mings. For a good while the meaning of this sticker remained mysterious. Only recently did the man behind merciless, and the owner of the only full-time shop that specializes solely in Honda 600's reveal the truth. That man's name is Tim Mings.
This trip down the trail of parts started when I asked another Honda obsessed pal what this merciless business was all about. "Oh, that's my Buddy Tim, we should go out there some day", said Andy. A few months later away we went. Tim has been mixed up with Honda for as long as he can remember, as Tim's uncle started working at one of the first US Honda dealers in 1959. The Hondas in question were first sold in the United States starting in 1970. Tim proudly boasts that he runs the only full time Honda 600 shop in the entire world. By virute of it being the only such establishment, it is also de facto the World's Largest Honda 600 Shop! The merciless? Maybe he was in a good mood the day we saw him, but Tim said with a laugh that, "They call me Merciless Mings, because I'm kind of an asshole".
The 600's came in two flavors - the AN600 Sedan and the racier AZ600 Coupe. The cars were available in United States only from 1970-72. The rest of the world got to roll small and Honda from 1967-73. All the cars were powered by the same air-cooled parallel twin that kicked out a breezy 36 horsepower. Early models featured a non-synchro constant mesh transmission, with synchros added to later cars. Engine and transmission share oil like in a motorcycle engine, but the clutch stays dry in the car. In Tim's yard is the sole survivor of fifty 1969 models Honda brought over for federal testing. The rest were crushed by the feds. The subtle differences between the tester and production versions include the tailights and markers along with the dashboard. Every 600 rolled stock on 10-inch wheels.
G/O Media may get a commission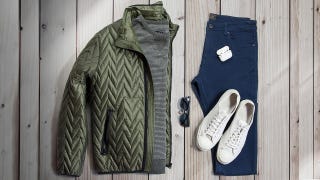 60% off
Jachs NY Fall Sale 60% Off
Tim not only fixes and restores Honda 600 cars and engines, but is also in possesion of the parts required to restify and roll. Tim has containers full of parts as a result of snapping up lots of new old stock as the dealerships got out the cars, and working with companies to make reproduction gaskets and the like. Performance parts like Italian made precision high-compression pistons also peppered the shelves. Demand for the little Hondas goes through its peaks and valleys as people get in and out of owning the cars. Tim warns those thinking that these cars are a cheap mode of transportation that they are anything but. The rarity of these machines can make running them around an expensive exercise.
Model T's and vintage Honda racing motorcycles are what keeps Tim busy in his spare time. Tim tours the country to vintage motorcycle racing meets at Mid-Ohio, Daytona, and other US points, and even took a 2002 championship on a race bike he built himself. Recently the Petersen Museum contacted Tim for the Honda segment of the upcoming Microcars exhibit. Merciless Ming himself lined them up with a coupe and sedan, as well as rebuilding an engine to perfection for display at the museum. The engine seen here is on an original Honda factory engine stand. Tim also owns the only other known engine factory engine stand in existence. It's right there in the back of the shop, next to a auxiliary fuel supply unit fabricated from a Coke bottle and an old hospital IV rack.
SOURCE:
Tim Mings
World's Largest Honda 600 Shop
Parts and Restoration: Cars Bought and Sold
By Appointment Only
818. 355. 5165
h_mings@msn.com
Microcars: The Minimum in Motoring, at the Petersen Museum Starting June 23 [petersen.org]
Related:
Two-Cylinder Sangwich; A Quartet Of Microcars [Internal]
Note: The regular knowing us by instead of following the trail of parts will return next Friday.