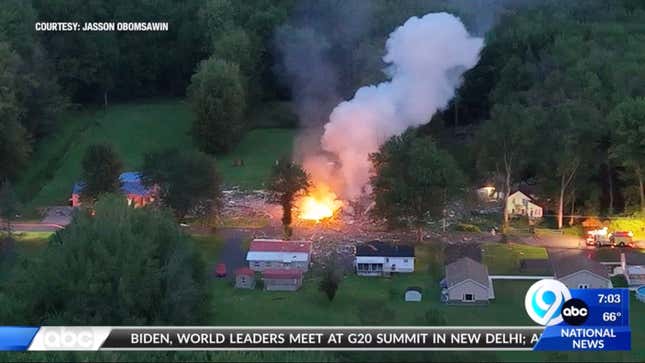 One of the downsides of living in such a car-dependent society is that every now and then, people drive their cars into houses. Sometimes, multiple people even crash their cars into the same house. It's a massive inconvenience for the people who live there, often requiring extensive (and expensive) repairs before the house is safe to live in again. But at the same time, at least they still have a house to come back to. For the owners of a Oneida, New York, home, though, that's not exactly the case.
This NYC Garage Takes Vanlife To The Next Level | Jalopnik Visits
NewsChannel 9 reports that "a juvenile" driving a stolen car crashed it into a house Sunday morning. That's bad enough as it is. Presumably, the family that lived there had plans for the day that didn't involve a car ending up in their house, calling the insurance company, or dealing with firefighters and police. But then things got even worse. Somehow, the driver of the stolen car had managed to cut the house's gas line, causing a gas leak that forced emergency responders to evacuate six houses in the neighborhood.
But because they were unable to shut off the gas, it continued to leak for three hours before the house exploded. We're not talking about a little boom and some interior damage. No, the entire house exploded. It's gone. There is nothing left. Where there once was a house, there is no longer a house. It's just a pile of rubble at this point. Essentially, everything they owned is gone just like that.
The explosion also damaged several other houses and forced emergency responders to hide behind firetrucks to avoid getting hit with flying debris. Thankfully, because they had already evacuated most of the neighborhood, no one was injured. But they still have a long road ahead of them as they work to clean up the site and rebuild their house.