1st Gear: That's It?
After years of going big on hybrids and investing in hydrogen fuel cell vehicles, Japanese automakers Toyota and Honda seem to finally be waking up to the idea of fully electric battery-powered vehicles. Now the latter is debuting an all-electric Honda Clarity soon, which will join the Clarity fuel cell car and hybrid.
So how much range will this fabulous Honda EV have? Something to match the Chevrolet Bolt's 238 mile range, or the predicted 215 miles (at least) of the upcoming Tesla Model 3, or even the new Hyundai Ioniq's 124 miles?
Nope. Not even close. It gets 80 miles of range, like a Nissan Leaf did seven years ago, reports Automotive News' David Undercoffler in a scoop:
The shortfall is not a failure of its engineering, Honda says, but the unavoidable result of its choices.

The automaker defined two parameters that were nonnegotiable: the physical size of the Clarity platform — which the EV shares with the Clarity plug-in hybrid and hydrogen fuel cell models — and the cost of the battery-electric version, which is expected to start around $35,000 before any tax credits or incentives (pricing hasn't been announced).

With those hard points, Honda didn't leave itself any leeway to fit a longer-range battery, which would have been heavier and costlier.

"A pillar of the Honda brand is affordability, and if Honda came out with some obscenely priced long-range electric car, what does that do for the brand?" Steve Center, vice president of environmental business development at American Honda Motor, told Automotive News. "Most of our customers would not be able to acquire it."
True, but I'd argue that small segment is an awfully competitive one, and and while the Clarity EV will secure some Honda loyalists in California who need a good city car, it's hardly going to serve the needs of most American drivers with that range. I guess it's a start?
2nd Gear: Chao Wants Driverless Car Education And Secured Jobs
Elaine Chao, the Trump administration's new Transportation Secretary, seems cautiously optimistic about autonomous cars, but according to Reuters she seeks to urge companies to "explain the benefits of automated vehicles to a skeptical public." She's right.
G/O Media may get a commission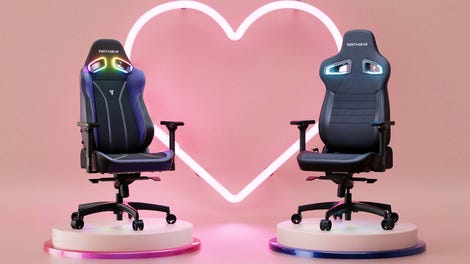 Up to $150 off
Vertagear Gaming Chairs
Traffic fatalities are up, people aren't getting better at driving, and all this technology is useless is people can't understand why it exists or how to use it.
In 2015, 35,092 people died in U.S. traffic crashes, up 7 percent and the highest full-year increase since 1966. In the first nine months of 2016, fatalities were up 8 percent.

Chao, noting research that 94 percent of traffic crashes were due to human error, said: "There's a lot at stake in getting this technology right."

She said the Trump administration wanted to ensure it "is a catalyst for safe, efficient technologies, not an impediment. In particular, I want to challenge Silicon Valley, Detroit, and all other auto industry hubs to step up and help educate a skeptical public about the benefits of automated technology."
Additionally, Chao expressed concerns about the 3.5 million jobs potentially at stake in the trucking industry and other driving-related occupations. She is right to be concerned about that as well.
3rd Gear: Mexico May Leave The Table
Speaking of the Trump administration, it is all but certain to renegotiate the North American Free Trade Agreement, but Mexico now says that if heavy tariffs on cars or other imports are proposed, it's going to stop negotiating. Via Bloomberg:
Mexico's top trade negotiator doubled down on threats to break off talks to rework Nafta, saying his country will walk away if the U.S. insists on slapping duties or quotas on any products from south of the border.

"The moment that they say, 'We're going to put a 20 percent tariff on cars,' I get up from the table," Mexican Economy Minister Ildefonso Guajardo said in an interview. "Bye-bye."

This doesn't mean, Guajardo emphasized, that Mexico would be looking to scrap Nafta. But by saying it refuses to even discuss the kind of tariffs President Donald Trump has long trumpeted, the country is ratcheting up the pressure on U.S. negotiators and effectively daring them to pull out of the 23-year-old pact.
No official policies have been put forth yet, but such tariffs could make your next new car quite a bit more expensive if it was not produced in the U.S.—and that doesn't even account for foreign parts sourcing.
4th Gear: Would Americans Buy The Mercedes X-Class?
Mercedes-Benz is getting a midsize pickup called the X-Class based on a Nissan truck platform. We Americans won't get it. Or we might! Automotive News reports Mercedes is mulling the idea, given how lucrative the segment can be—but also how competitive it is.
"In the past year, the midsized truck market has come back a bit. General Motors is launching a midsized truck. We are watching developments very closely, and we will take a decision at the appropriate time," Mercedes-Benz Vans boss Volker Mornhinweg said. The X class is built for Mercedes-Benz by Nissan Motor Co. in Spain. It is based on the Nissan NP300 Navara and Renault Alaskan. Mornhinweg said a U.S. production site for the pickup was also under consideration.

If the X class is green-lighted for the U.S., by the time it finds its way to U.S. dealerships it is likely to find the competition much stiffer than today.

Sales in the midsize pickup segment have grown 83 percent since its recent nadir in 2013 of 244,834 units, with much of the rebound coming from GM's redesigned Chevrolet Colorado/GMC Canyon. Last year, the GM twins accounted for about a third of the segment's 448,398 sales, but continued to trail the long-running Toyota Tacoma, which has held the segment crown since 2005. The Tacoma took half of the segment's sales in 2015, and 43 percent in 2014.
5th Gear: Takata To Plead Guilty
Last but not least today, Takata is expected to be in U.S. court this morning and entering a guilty plea and an agreement to a $1 billion criminal fine over its deadly exploding defective airbags. From the AP:
Company representatives are scheduled to be in U.S. District Court in Detroit Monday afternoon. The company agreed last month to plead guilty to one count of wire fraud.

Three executives also have been indicted on charges that they falsified test reports.

Takata inflators can explode with too much force, spewing shrapnel into drivers and passengers. At least 16 people have been killed worldwide and more than 180 have been hurt.
Reverse: Happy Nadersday
Neutral: Will People Buy The Honda EV?
It's clearly not the world-killer the Model 3 and Bolt aim to be, but is it enough for now?