Good morning! Welcome to The Morning Shift, your roundup of the auto news you crave, all in one place every weekday morning. Here are the important stories you need to know.
As we come up on the 2018 Detroit Auto show, you can check out all of our coverage so far at this link, and here's our new morning video recap of yesterday's big story:
1st Gear: The Insight Looks Like... A Car
Honda's dropping the third-generation Insight hybrid at the Detroit Auto Show next week, and if you think it could be easily mistaken for a Civic or an Accord, that's exactly the point.
It's a far cry from the two-seater spaceship original Insight, or the egglike Prius knockoff that followed it. Honda's goal here, Automotive News reports, is to help make Honda's electrified vehicles more than just novelties for people who want extreme fuel economy.
The third-generation Insight, shedding the boxy rear end that distinguishes many hybrids, now bears the sleek design profile of the Civic and recently redesigned Accord sedans. It wears Honda's "flying wing" grille and a bold fascia, along with what Honda calls a "sweeping, coupe-like roofline."

It's the "anti-Prius," says Dave Sullivan, an analyst with research company AutoPacific.

"I was relieved to see a more conventional design," Sullivan told Automotive News. "In order for hybrids to continue to move more mainstream, the design needs to be more mainstream. Looking at a vehicle like the Prius, the design is extremely polarizing, to the point that it might be turning off some consumers."
G/O Media may get a commission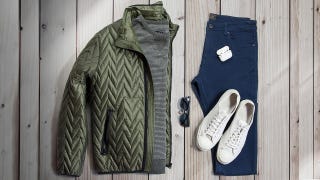 60% off
Jachs NY Fall Sale 60% Off
You know what? I'm all for this. The way I see it, more normal cars—regular sedans and crossovers, vehicles with no pretense of performance—may as well just be hybrids anyway. There's the fuel economy benefits, plus it could help drive battery costs down, which speeds up the march toward electrification that will probably need to happen eventually. Expect more and more hybrids like the Insight to be normal cars and not just specialty models.
2nd Gear: Why The Toyota-Mazda Plant Is A Big Deal
Toyota and Mazda will spend $1.9 billion on a new factory in Alabama that will produce the Corolla and an unnamed new Mazda crossover. It's a big deal! So much so that a lot of states were angling for it, but the state where everyone is legally required to have a Roll Tide bumper sticker won out in the end by ponying up $370 million in various public incentives.
This matters for a lot of reasons. For one, Mazda has no U.S. plants, which has often put it at the mercy of currency fluctuations. It's needed an American foothold since the divorce with Ford way back.
Second, believe it or not, even in a market that's been brutal toward small cars, Toyota still sells approximately 13 billion Corollas a year and so it needs the additional capacity. And finally, it's more American manufacturing jobs, which is always good.
From Automotive News:
The factory's combined plant capacity will be 300,000 vehicles a year — roughly the number of vehicles by which U.S. auto sales declined in 2017.

The two companies detailed the investment here Wednesday in an auditorium full of Alabama elected officials and public service providers, saying the project will create 4,000 factory jobs and enable the automakers to take a new approach to engineering and building vehicles.

The project will be operated as an independent joint venture that has not yet been named, delivering 150,000 Toyota Corollas and 150,000 units of the Mazda crossover.

"We need the Corolla capacity," Toyota Motor North America CEO Jim Lentz told Automotive News during the event. "We sold about 330,000 Corollas last year, and 50,000 in Canada. This plant, with our other Corolla plant in Mississippi, will give us capacity of 310,000.
In addition to giving Mazda an affordable U.S.-built crossover for max mainstream sales, it also lowers their manufacturing costs. Whatever it takes to help Mazda stay healthy is fine by me. The world needs more fun cars.
3rd Gear: Infiniti Tries Again, Again
One thing we'll see next week in Detroit is the Infiniti Q Inspiration concept, a coupe-like four door concept said to preview future designs for the brand. Let's be honest: Infiniti could use a boost. Long just a repository for nicer-ish JDM Nissans, it's getting more and more brand-exclusive cars, but it still has struggled to carve out a real brand identity for itself. Maybe sharper design can help with that—along with, of course, more crossovers.
From The Detroit News:
As a self-described "challenger" make, Infiniti has had its work cut out to find a place on consumers' shopping lists.

But with the backing of giant parent company Nissan behind it, Infiniti does have some advantages, including prodigious design and engineering resources.

From the start, Infiniti has tried with mixed results to make unique and compelling vehicle designs one of its main attractions. Now the brand is aiming to reboot its fortunes with a fresh design concept and the launch this year of a mid-size crossover, the QX50.

The "Q Inspiration" design concept will make its debut at next week's Detroit auto show. The sedan concept's design has an elongated silhouette, which Infiniti says represents the first look at a new form language for the brand.
4th Gear: Ford Has More Performance SUVs On The Way
I think we can all agree the 2019 Ford Edge ST was a weird and unexpected move by Ford, but from a sales perspective it makes total sense. Buyers are abandoning sedans and small cars, but crossovers mostly suck to drive. Perhaps the answer is to make them faster and more engaging.
And guess what? Ford, seeing the writing on the wall, has more ST crossovers on the way, reports Bloomberg:
"I wouldn't describe it as a niche," Raj Nair, head of Ford's North American operations, said in an interview. "We see it as big enough to pursue some real engineering and some real unique parts. For that to pay off, it needs to be a pretty healthy business."

The Edge will be just the first in a series of hot rod SUVs Ford has coming, Nair said. Analysts speculate the compact Escape and subcompact EcoSport will be next in line for the ST upgrade.

"People are running away from cars and they're running toward trucks and SUVs," said Karl Brauer, executive publisher of Cox Automotive Inc. brands including car-shopping website Autotrader and researcher Kelley Blue Book. "Why not have the performance elements of cars migrate to SUVs, too?"
Fun cars are fun cars, I suppose. At least Ford's trying.
5th Gear: Canada's Worried About Trump
Well, a lot of folks are, but in particular Canadian officials are increasingly concerned that President Trump will pull the U.S. out of NAFTA, which will have a direct impact on auto manufacturing on this continent as well as stock prices and currency values. The sixth and next to last round of NAFTA negotiations happen in Montreal at the end of this month.
From Reuters:
The comments cast further doubt on prospects for talks to modernize the trilateral North American Free Trade Agreement (NAFTA), which Trump has repeatedly threatened to abandon unless major changes are made.

Officials are due to hold a sixth and penultimate round of negotiations in Montreal from Jan. 23-28 as time runs out to bridge major differences.

It is not certain the United States would quit NAFTA even if Trump gave the required six months' notice, since he is not obliged to act once the deadline runs out. Notice of withdrawal could also raise opposition in Congress.

One of the Canadian government sources also said later it was not certain that Trump would move against the treaty and that Ottawa was prepared for many scenarios.
Reverse: Battle of the Running Bulls
Neutral: Yea Or Nay On Performance Crossovers?
Let's be real: the Edge ST is never going to have the same performance capabilities as a Focus ST, or probably even a Taurus SHO or a Fusion Sport. But it's something! And it's a response to what buyers clearly want. Is this a good trend, or is it bad and dumb?