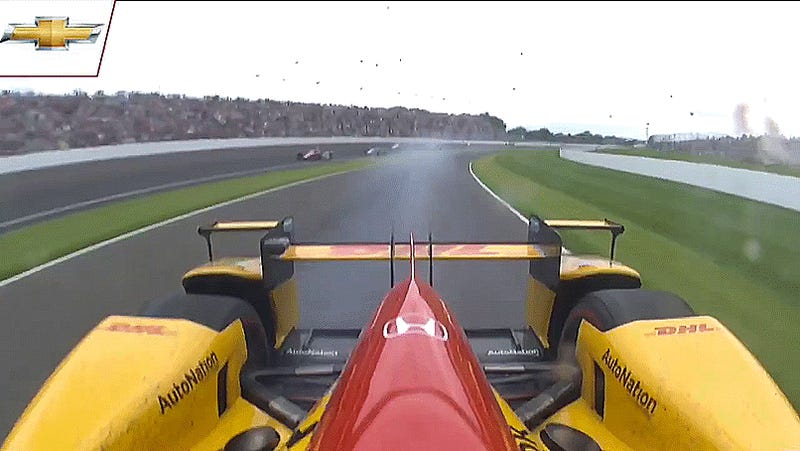 This is not Honda's year to build a reliable engine in open-wheel, single-seater race cars. Ryan Hunter Reay, one of Fernando Alonso's Andretti teammates, just had his engine fail with a huge THUNK. Hunter-Reay has the first Honda engine to go kaput during today's Indianapolis 500 race.

Sadly, 2014 Indianapolis 500 winner Hunter-Reay has been one of the front-runners of this race, giving Formula One's best Indy rookie hell for the lead. Hunter-Reay's engine failed abruptly on a straight on lap 137 of the 200-lap race, forcing him to pull over and retire from the race.

The gutting thing is, two-time Formula One champ Fernando Alonso opted to do the Indianapolis 500 because Honda's F1 engine is such an unreliable turd and he's been unable to be competitive in F1 for over a year.

While Honda's IndyCar teams have had a much better season so far, ABC commentators noted that Honda found extra horsepower this season in IndyCar at the expense of reliability. Honda had to replace several IndyCar engines in practice and qualifying, before the Indy 500 ever began—including Alonso's.
Here's hoping this is the only one. I'd rather see a good fight for the win instead of cars dropping with blown engines.

UPDATE [2:21 p.m.]: Charlie Kimball just had his Honda engine blow on lap 167, adding another engine failure to Honda's list. Kimball's No. 83 Chip Ganassi Racing car left a trail of oily smoke behind him, dusting poor Helio Castroneves' visor behind Kimball's car with oil droplets on its way out.