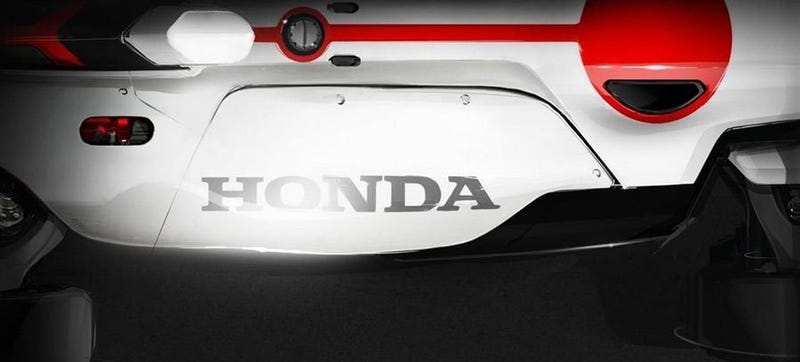 This week, I learned one very simple rule. Open air, light, moderately powered cart-thingies are shit tons of fun. I've been driving/riding/piloting a Polaris Slingshot, easily the worst of the cabinless cart options, and even that thing is impossible not to have fun in. Take that, add another wheel so it handles properly, give it the engine from Honda's new 230 horsepower MotoGP-bike-turned-production-model, and you have something more bonkers than a 15-year-old on Molly at a spring formal.
Honda are calling it the 2 & 4 Concept, and say it combines the freedom of a motorcycle with the maneuverability of a car. No, I do not know what they're talking about either. Yes, my first thought was also that the freedom of a motorcycle comes from the maneuverability of said motorcycle.
Then again, I can think of a lot of ways for a 1,000cc V4 that spins up to 14,000 rpm to provide all sorts of freedoms - freedom from my driver's license being one of them.
The 2&4 is a joint venture, designed by Honda's motorcycle design facility in Asaka, Japan, alongside their automotive design facility in Wako, Japan. As you can see from my fantastic Lightroom job above, the Honda 2&4 Concept appears to be an open wheel vehicle like the Ariel Atom or KTM X-Bow.
The chances of this thing being street legal are next to none and, if it were, I'd be afraid Honda would try and give us a 101 hp neutered version like they're trying to do with the RC213V-S.
Whatever it is they're planning, it will all be unveiled at the 2015 Frankfurt Motor Show September 15th.