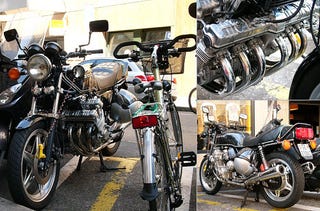 The true gearhead shall never rest. Even on an early autumn stroll by Lake Geneva, six exquisite exhaust pipes are ready to corrupt the soul and the credit rating.
The big bike is sitting pretty between Yamaha scooters and city bicycles and it takes a few seconds for a sporadic connoisseur of motorcycles to register the unlikely find. For this late 70s touring bike parked on Rue de Rive in downtown Geneva is none other than the Honda CBX, the original hyperbike from 1978. The engine, a—deep breath now—1047 cc, 24-valve, twin-cam air-cooled inline six with a carburator for every cylinder, should clarify things:
There is confusion, though. For if you peek at the plaque, the cycle is marked CB1.
Which is, according to Wikipedia, "a small and light naked sportsbike with a straight four 399 cc engine." What we see is obviously not small, not light and definitely not equipped with a straight four, so I turn to my friend and ex-colleague Zsolt Csikós, an encyclopedia of all things Japanese and all things motorcycle:
If that's not a CBX1000, a computer does not have bits in it. The CB–1 is delta box-framed, helter-skelter-looking, semi-modern sports bike. There was but a single model of the CBX1000 and this example is original to the last detail, except for the dual horns, because it came with one from the factory. It is an unrideable, wonderful mastodon. Did you hear it go?
I did not. But others have. And would you listen to that noise!
To continue further would be in vain as none other than LJK Setright, the high priest of motoring journalism has written about the CBX, in a rare piece which is actually online, from the February 1980 issue of Cycle Guide:
You will remember the subaltern who, asked the place of cavalry in war, described its function as "lending tone to what would otherwise be a vulgar brawl". The CBX does the same for motorcycling, with that effortless superiority which is the mark of the true aristocrat.
Read the rest at The International CBX Owners Association's homepage and please don't go searching on YouTube for more examples of the CBX's noise. I have. And I now feel quite ready to plunge into maelströms of debt to hear it every day.