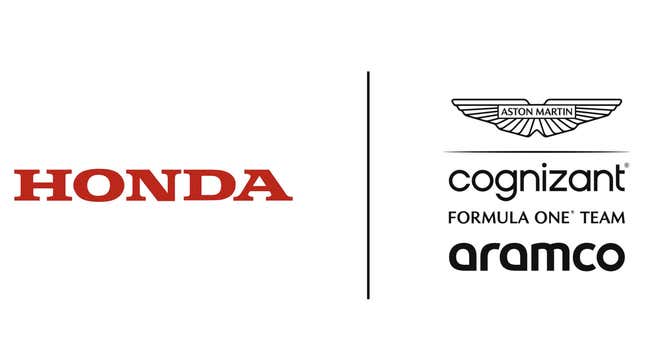 Beginning in 2026, Honda will enter into a works partnership with the Aston Martin Formula 1 team as the sport enters its newest era of power unit regulations that will prioritize greater electrification and carbon neutral combustion fuels in F1's pursuit of carbon neutrality by 2030.
Carspotting, Monterey Auction Edition: 1938 Talbot-Lago T150-C
The partnership will be a works partnership, meaning that the Honda power units will be designed specifically to work with the Aston Martin chassis, and the chassis will be designed to work with the Honda power unit. This marks a shift from Honda's current works partnership with Red Bull Racing.
"In pursuit of its goal of achieving carbon neutrality in 2030, starting in 2026, the FIA will mandate the use of 100 percent carbon neutral fuel, and the deployment of electrical power will be increased three times from the current regulations," Koji Watanabe, President of Honda Racing Corporation (HRC) said in a press conference preview of the news. "With the massive increase in electrical power, the key to winning in F1 will be a compact, lightweight, high power motor with a high performance battery.
"The technologies and know-how from this new challenge has the opportunity to be applied to our future mass production electric vehicles. In fact, starting in the 2026 season, various automakers are planning to enter F1, which we expect will further intensify the competition."
Martin Whitmarsh, Group CEO of the Aston Martin Performance Technologies, added that Aston Martin and Honda share a similar "spirit" when it comes to facing the challenges of motorsport.
"The 2026 F1 regulations will clearly require the full integration of chassis and power unit, and that's only achievable with a full works team relationship," Whitmarsh said. "By partnering with Honda for 2026, we're in a fantastic position to put together those ingredients."
In this partnership, HRC will be responsible for designing, developing, manufacturing and supplying a power unit optimized for the Aston Martin chassis. Meanwhile, Aston Martin will be developing a chassis based entirely on the power unit specifications provided by Honda. Honda did not confirm if it will provide power units to additional teams in 2026, but Aston Martin will be its sole works team.
Whitmarsh noted that conversations have been brief; after Honda applied to become a 2026 PU supplier in November, the manufacturer spoke with a few different teams. The decision to go with Aston Martin, though, only took a few weeks to iron out.
"It was a very quick, efficient, and ultimately successful set of discussions," Whitmarsh said.
Watanabe added, "Amongst the teams we had talks with, we felt that Aston Martin was truly determined and had a strong passion for winning the championship. We did visit them in Silverstone and saw the massive investment they've made [in their new facilities] and felt Aston Martin was serious on challenging for the championship. Therefore, we believe both organizations were heading in the same direction."
He also confirmed that the Honda power unit is "on schedule" in terms of its development.