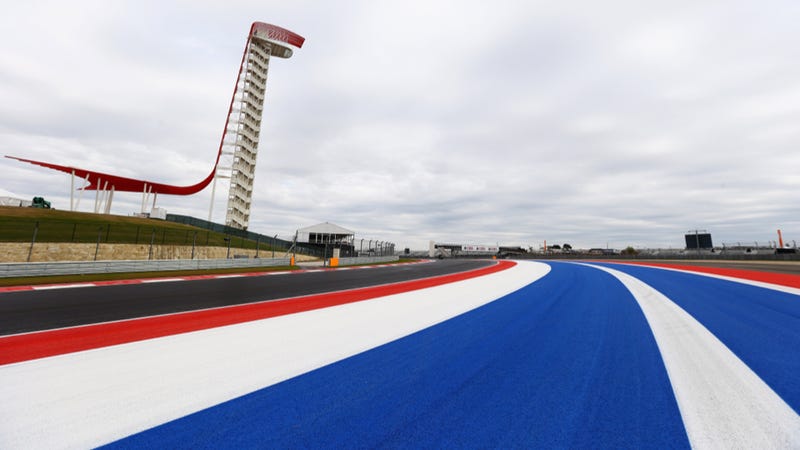 As I walked into the paddock at the brand new Circuit of the Americas I immediately ran into a local F1 fan I first met back in February when I visited the scarcely started track. The joyous look on his face probably mirrored mine. A look that said "Holy shit this is really happening."
Could it really be? F1 in America? In Texas? After all the drama, the lawsuits, the work stoppages, the traffic. Are there really funny little foreign men in funny little cars racing around Elroy, Texas?
Yes. It is real. The buzz of high-revving V8s fills the air around me, sending a chill up my back, disrupting the breakfast tacos deep in my gut.
To be fair, the first thing Vance said was "We're not in Elroy anymore."
Taking the shuttle in from the media center this morning there were cows just outside the parking lot near turn 11. A sign that Elroy wasn't far off.
But walk through the gates, though, past the Texas National Guard Humvees (unclear whether they're around to enforce or prevent secession) and you're transported to F1. A world unto itself. A world where people adorn themselves in a disproportionate amount of Ferrari gear.
I saw Tavo Hellmund walking around, too. I wonder what's going through his mind? He's the man who made this happen, even if he's on technically on the outs.
Still, no Tavo. No race. Maybe the drama on the track will help erase the drama that surrounded building it and he can just enjoy what his vision has wrought.
I'm sitting in the media center now watching the first practice on a screen as cars wail by. Weber, Massa, Rosberg. They're all here. Feeling out Tilke's design as crowds of onlookers gawk at what's happening. Excitement slowly replacing disbelief.
A couple of guys on the shuttle on the way in came here from California and Florida without tickets. Pilgrims to speed. Drawn here with no guidance, just following the zip-gun sound. Hooked on the possibility of touching something so fast.
Will F1 succeed in America? I don't know. There's a lot of football and racing this weekend. It's possible they didn't sell as many tickets as they hoped or didn't book as many hotel rooms as they promised. The impact on the economy won't be known for a few days.
The impact on the people here — the many like me who'd never been to an F1 race — is known. People walking around, furiously tweeting, taking pics are all tacitly saying the same thing. A Texan prayer of sorts:
Holy shit, this is really happening. Amen.