This year's 24 Hours of Le Mans is shaping up to give us one ultra-close fight between Toyota and Porsche. First, Porsche was fastest in the first free practice session of the weekend. Now, Toyota went the fastest in the first night qualifying session. Less than a second separated the fastest Toyota from the third-place Porsche in qualifying.

Stéphane Sarrazin cranked out a ludicrously fast lap time of 3:18.793 in the No. 7 Toyota TS050 for provisional pole position during the first qualifying session today—faster than last year's overall pole position by 0.94 of a second. Sébastien Buemi was close behind him in the No. 8 Toyota TS050, setting a 3:19.431. Less than a second behind the leader was the fastest Porsche: the No. 1 919 Hybrid, which set a 3.19.710 with Timo Bernhard driving.

This is all after a first free practice session for the weekend where the No. 1 Porsche was the fastest car with a lap time of 3:20.362—just over six tenths of a second in front of the No. 7 Toyota. This year is going to be another close one if these two teams keep swapping position like this.

However, there's still two more qualifying sessions tomorrow and given that the fastest laps set by each team set the grid, we could see some musical chairs before the real starting order is set.

It's impossible for me to choose who I'd rather see take the overall win. Is it Toyota's year to avenge the heartbreaking last-minute connector failure that robbed them of first place last year? Or will Porsche prove that they should stay in the World Endurance Championship for the near future?
G/O Media may get a commission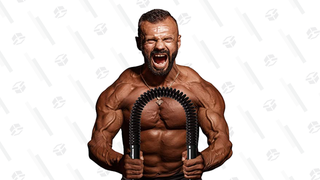 10% off
Zenooze Boa Power Twister
Curiously, last year's winning Ford GT wasn't anywhere near the top of the GTE Pro standings. The No. 95 Aston Martin Racing car topped the time charts, with less than a second separating it from the No. 71 and No. 51 AF Corse Ferrari 488s behind it. The fastest No. 67 Ford GT was a full 2.001 seconds behind the provisional pole-sitting Aston in fifth position, followed by the fastest new mid-engine 911 in sixth, the No. 92.
GTE Am was also topped by an Aston Martin Racing car, the No. 98, which set a provisional pole only 0.558 seconds faster than the Dempsey-Proton Racing Porsche 911, which is not being driven by Patrick Dempsey this year. Less than one second separates the top four qualifiers in this class as well.

Let's not forget about LMP2, either—Matthieu Vaxiviere nabbed provisional pole tonight for the No. 28 TDS Racing car with a healing back injury, reports Sportscar365. The injury forced Vaxiviere to sit out the 6 Hours of Spa-Francorchamps, but it's not gone just yet. Vaxiviere is just a beast who's apparently powering through it because who wants to miss Le Mans for that? Just over half a second separates him from the next place car, so this should be another close-fought class.

This is why it's worth staying up all night and well into the next day to watch Le Mans. The means by which they balance out the performance of the different vehicles at Le Mans is by no means perfect (as we saw with the Fords and Ferraris being so fast last year), but there's still usually a few cars that are close enough matched for a good day-long fight.

Plus, they still have to survive a full day's worth of racing without crashing or any other mechanical issues taking them out of contention. Cars that are fast now sometimes drop out of contention early, so it's really anyone's race. And if one class is a dud (hello, lone LMP1 non-manufacturer entry), there's several others you can follow. It's madness! But it's entertaining madness.

Full first qualifying session results can be found here.