Our good friend and flying photog Frank Crebas was out in the Majove Desert at Edwards Air Force Base this week to take some shots of the F-35's testing. In the end he ended up with something even more exciting — three consecutive generations of tactical combat jets in formation.
The aircraft shown include a Royal Netherlands Air Force F-35, F-16MLU and a Draken International A-4K. The RNLAF F-35 is part of the Joint Strike Fighter integrated test force and the F-16MLU also belongs to the RNLAF but is operated by the Arizona Air National Guard's 148th Fighter Squadron who trains RNLAF pilots.
The RNLAF, who is a "tier one" member of the F-35 program, has its own tests to conduct with the fledgling stealth aircraft, and this one called for a lot of adversary aircraft. As such, six F-16s from the 148th Fighter Squadron and six contracted A-4Ks from Draken International would fly against the F-35s, with the F-16s sometimes flying with them as a team, along with a RNLAF KDC-10 tank to support the gaggle of test aircraft.
G/O Media may get a commission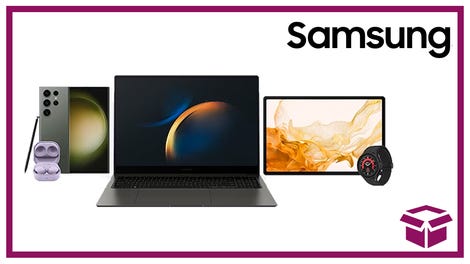 24 hour deals
Discover Samsung - Daily Deal
The adversary aircraft would be used for a wide variety of air-to-air setups, including those where the "bad guys" would emulate potential enemy tactics in classic aggressor form. Draken's A-4Ks, with their APG-66 radars, similar to those flown on the F-16A/B, along with a modern heads up display, HOTAS ergonomics, radar warning receiver, digital data-bus, glass displays and the ability to carry an array of jamming pods, are the most advanced private adversary support aircraft currently available for hire in the United States. As such, they served as a cost effective "fill-in" bad-guy force for the tests.
Part of the two week long event included testing Link 16 data exchange between the F-35 and the F-16 during realistic tactical scenarios. During these sorties, as many as 12 aircraft could be in the air at one time.
The use of private contractors for adversary air support is nothing new but it is a space that has grown in the last decade and is set to explode as the U.S. and allied air arms begin to realize an all 5th generation fleet of stealth fighters. These aircraft will cost much more to operate than their predecessors and their airframe hours will be precious. As such, using two F-35s to go train in basic tactics and intercepts will be wasteful. The USAF has already realized this by attaching T-38 adversary squadrons to some of its F-22 Fighter Wings. You can read much more about the looming explosion of contractor air support in a piece I wrote for Combat Aircraft Monthly five years ago that is available here.
---
Contact the author at Tyler@jalopnik.com.