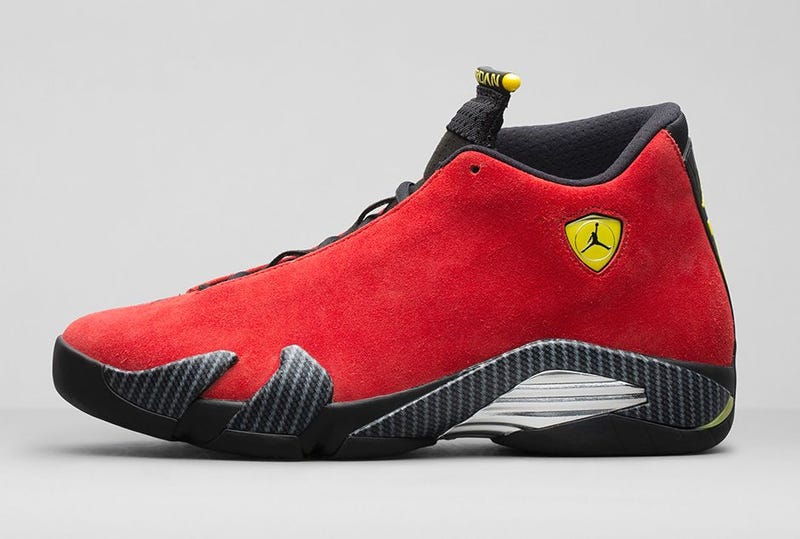 I sometimes like to say that Ferrari is the Kanye West of automakers: immensely talented, but also burdened with an ego so massive it has its own gravitational pull. You know who else is worthy of that comparison? Michael Jordan. That's why these new $200 Ferrari-themed Air Jordans make a ton of sense.
They're still hideous, though. A massive win for cross-promotional marketing and brand synergy, sure, but the shoes are hideous. Then again, is there a Ferrari-branded piece of clothing that isn't? (Just kidding, your $2,000 Ferrari leather jacket looks really classy. We promise.)
The Air Jordan 14 Retro "Challenge Red" sneakers, themselves a refreshed version of shoes that came out in the late 1990s, go on sale this Saturday. They're an explosion of red suede, fake carbon fiber, and of course, the iconic Jumpman logo where a prancing horse could go just as easily.
As Road & Track notes, Jordan has owned a couple Ferraris in his time, most notably a black 512TR back in the early 1990s. But they also nailed the group that's likely to be pretty pissed off by this arrangement:
Puma, as you may know, has the official Ferrari license and plasters it all over a range of shoes, accessories, and apparel. They clearly pay a fortune for the right to do so, and to be able to flaunt the tie-up. Nike? Not a penny. And they're going to reap all the same benefits.
This could be why the shoes don't actually have the Ferrari name or logo on them, but the homage is pretty obvious.
I'd buy a dozen pairs myself if it wasn't limited to one per customer. Life isn't fair.