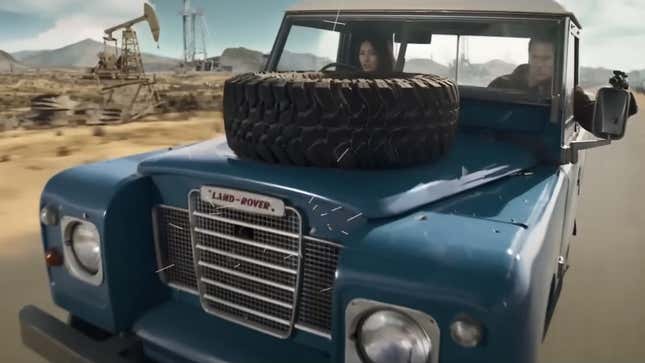 Hidden Strike, which is a movie with a trailer released this week, was shot in 2018, according to The Wrap, but apparently only getting released this year because something or other about the pandemic. Such a long delay from production to release almost always bodes poorly for a movie, but we can now say the trailer is entertaining enough, and, as forgettable movies go, the movie might be dumb enough to be good, too.
2024 Nissan Z NISMO | Jalopnik Reviews
The stars are Jackie Chan and John Cena, one of whom used to be known primarily as a stuntman who does his own acting and the other as a professional wrestler who also does some acting outside of the squared circle. You will not regret the following two-and-a-half minutes:
What is this movie about? Banter and senseless violence, which is what most American movies are about. The Wrap elucidated a bit of its back story, which won't make sense to anyone outside of a studio executive somewhere currently thinking about something else:
The film was green-lit and shot amid a resurgence specifically in China for Jackie Chan-fronted actioners like "Kung Fu Yoga" and "Skiptrace." The latter was also a (partially) English-language romp starring Johnny Knoxville in a clear attempt to recapture some of that "Rush Hour" or "Shanghai Knights" magic from the late 1990s and early 2000s.

"Skiptrace" earned $131 million in 2016 while the former globe-trotting adventure film "Kung Fu Yoga" earned $256 million in 2017. "Since then, "The Climbers" earned $174 million in 2019, but COVID obviously put a damper on such robust earnings for a moment.

Ironically, in late 2020, American movie theaters were so desperate for content that Chan's ensemble actioner "Vanguard" became the first foreign-language Chan flick to get a nationwide opening since "Drunken Master II" in the summer of 2000.

However, the reopening for Chinese theaters also saw a further skewing of the marketplace toward local, Chinese-language blockbusters like "Hi, Mom," "The Battle at Lake Changjin" and "Moon Man."

John Cena's comments during his "F9" promotional tour, which indirectly proclaimed the independence of Taiwan, probably didn't help. However, "F9" was already on the downswing due to poor word of mouth prior to that controversy. Furthermore, "Fast X," which also features Cena in a sizable role, has earned $110 million there thus far, well below "F9" but solid by COVID-era standards for Hollywood tentpoles.
This is the danger of reading trade publications, which is that you get to see how the sausage is made, for better and worse. In this case, it appears that the sausage has been sitting out for a while and is perhaps not safe for consumption but any new Jackie Chan movie is a good movie and Hidden Strike passes that test. Slow and put in the hole.