Chevrolet says the new, 2014 Corvette Stingray shares only two parts with the current model: the cabin air filter and the discarded Cialis packets on the floor. No, it's the roof latch.
Still, GM says the base model will pull 1.0g on the skidpad and get from 0-60 in under four seconds. Who's laughing now, kids? Not us, by cracky.
Jokes aside, the Stingray has a raft of improvements over the C6. Here's a rundown of the new bits that stand to make the 2014 Corvette Stingray the performance bargain of the decade.
Whatever you think of the new Stingray's design, or the sexual practices of those sea creatures that don the car's flanks, GM engineers made some significant, incremental changes since the current C6 Corvette — many of which reside under the skin.
G/O Media may get a commission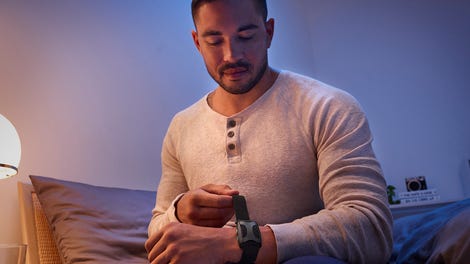 ---
Chassis
GM claims the Stingray's new aluminum frame structure is 57 percent stiffer and 99 pounds lighter than the C6's steel frame. In place of those creaky old hydroformed frame rails is a fresh aluminum structure comprising aluminum extrusions at front and rear crash zones, a center main rail section and hollow-cast aluminum front and rear cradles. Remember, If all that extra stiffness lasts more than four hours, it could be the sign of a serious medical condition.
---
Engine
Yes, this little blue pill is a pushrod V8, but get over yourselves, p-rod haters. Pushrod V8s have advantages in weight, friction and size, if not valve proliferation. The Stingray's 6.2-liter LT1 small-block V8 — producing 450 hp and 450 lb-ft — matches the current Corvette Z06's seven-liter LS7 engine in torque delivery from 1,000 rpm to 4,000 rpm.
GM also added direct injection, Active Fuel Management and continuously variable valve timing and cylinder deactivation.
---
Transmission — sorry, Rear Transaxle
Seven speeds! Oh, what, Porsche? The Stingray's Tremec TR6070 manual transmission — along with a new dual-mass flywheel and dual-disc clutch for lower inertia — gets rev matching on both down- and upshifts, a system GM developed. Yes, DIYers can turn it off via steering-wheel paddles.
A six-speed, Hydra-Matic 6L80 paddle-shifted autobox is an option for cruisers.
---
DUCTS!
The Stingray is lousy with duct work. Hood vents help reduce front-end lift, front fender side "coves" help vent underhood air pressure, reducing drag; rear shoulder vents direct air over heat exchangers to cool the transmission and rear diff on models with the automatic transmission or Z51 performance package — exiting through a pair of taillamp vents and lower-rear outlets.
---
Buttons Do Things
The new Stingray's Drive Mode Selector adjusts 12 attributes to match the conditions: snow and rain, eco, tour, sport, and track-only. What are those 12 attributes? Gauge cluster info, throttle, automatic gearbox shifting (if so equipped), cylinder deactivation, active exhaust, magnetic shocks (when equipped), the Z51's limited-slip diff, launch control, and the traction and stability control systems.
---
Exhaust!
The standard exhaust improves airflow by 13 percent — GM says — and uses a pair of butterfly valves to adjust the sound when the cylinder deactivation system is in V4 mode. Optionally, a dual-mode active exhaust — with two extra valves that open for MOAR NOISE! — offers a 27-percent airflow improvement.
---
Z51 performance package

We don't yet know prices for any of this stuff yet, but we do know that the Z51 performance package will come with a litany of extra gear for those with private racetrack memberships or who wish they did.
1.) Electronic limited-slip differential
2.) Closer gear ratios for the manual gearbox
3.) Dry-sump lubrication
4.) Additional cooling for the brakes, differential, and gearbox
5.) Larger brakes, aero bits for high-speed stability.
6.) Tire package: P245/35R19 front / P285/30R20 rear (vs. P245/40R18 front / P285/35R19 rear for Stingray) Michelin Pilot Super Sport run-flats were developed specifically for the C7.
7.) Magnetic Selective Ride Control optional.