Cadillac has 940 dealerships in the U.S., but nearly half of them have said "thanks but no thanks" to the hybrid plug-in Cadillac ELR. It's not because they don't want to deal with rich guys in shorts who run around their mansions yelling about how the French get too many vacation days.
No, according to Edmunds, the Volt-platformed luxury hybrid car has proven to be a tough sell to Cadillac dealers for some pretty legitimate reasons.
Cadillac says 410 of their 940 dealerships have passed on the ELR because the costs of equipping their shops with charging stations, special sales areas, repair equipment, and salesperson training can run as high as $15,000. Cadillac's global marketing director Jim Vurpillat told Edmunds that if dealers think they'll only sell one or two ELRs a year, it may not be worth that cost.
Like the Volt — and probably more so here, considering the $75,000 price tag before the $7,500 tax credit — the ELR is never going to be a volume-seller. It's a premium electric extended-range hybrid car that's only going to appeal to a small segment of buyers, so it does make sense that some Cadillac dealers will decide it's not up their alley.
G/O Media may get a commission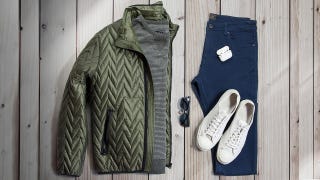 60% off
Jachs NY Fall Sale 60% Off
There's also the geography of electric car sales to consider. Here's Edmunds:
Vurpillat said most of the ELR sales will come from such places as California, Dallas, Miami and New York.

"They are not selling a lot of electric vehicles in Iowa," Vurpillat said.
Not yet, anyway. That's probably going to change someday.