Last month, we were suddenly frozen in fear of the prospect of a front-mounted U.S. license plate on the 2020 Toyota Supra, as the open-orifices of the car's design didn't leave a lot of room for mounting a thin, ugly rectangle of government-issued metal. Sadly, it's almost exactly as bad as we feared.

According to screenshots of the Gran Turismo Sport video game sent in to Jalopnik by a reader (thanks, Joe from Chicago), the new Supra bumper gets a fill-in mount right in the middle-hole of its grille, sort of hanging off of the forward tip of the hood, just under the emblem:
Here's what it would roughly look like with an actual plate:

G/O Media may get a commission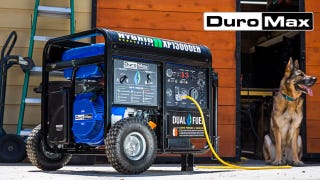 Black Friday Sale
DuroMax Generator Sale
I actually think it looked better when we mocked it up a little lower last month:
That's... something.
Keep in mind this is just a video game, but it seems pretty obvious that this is the likely setup shipping off of dealer lots in the near future. I'm going to admit that this isn't very shocking. Does it look bad? Yeah, it does. For a few reasons.
First, we need to blame America for its dumb and ugly squarish-rectangular license plate shape that doesn't really fit the design language of any car produced after 1990. Then we need to blame the 31 states in America that require a front-mounted license plate.
Then we blame society as a whole for enacting laws and law enforcement, and organizing people into coded identities that are meant to be tracked, which quite clearly constrains our world's most creative minds and spoils everything that is natural and good.
Then we blame Toyota. I'm not going to say they should have changed the design language of the car to account for the government's dumb and ugly metal. But we have to blame them because there's really nowhere else to put the license plate on the front of the car.
One of the other orifices of the face design houses safety and parking sensors you can't block with a plate, though it's unclear if anything is on the other side, and there's hardly any room left between the holes and the headlights to get fancy with some sort of sticker plate that isn't even allowed.

All in all this is just one of those unfortunate situations no one can really do anything about. If you're worried about it, just keep the plate under the windshield on your dashboard. If you're real, you'll move to a state that doesn't require a front plate.
H/t to Joe!