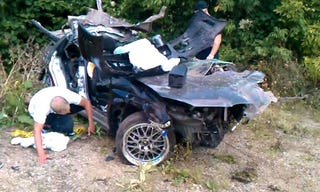 It took 45 minutes to extricate Dustin Moholland from his modified WRX after he smacked into a telephone pole at 100 mph. He survived, amazingly, but the car is toast and his friends are surprised it didn't happen earlier. NSFW.
Looking at the damage to the WRX, and the obvious modifications, there's little question as to the type of driving that led to this unfortunate accident and the reaction Moholland's friends only reinforces this. At one point his friend Mike Erskine, who shot the video above, asks him "Dustin, I don't know if you understand how fucking lucky you are."
This is echoed in the Facebook comments below the posting of the video, with friends saying "it's only a matter of time" and "this coulda happened to us a long time ago."
The before shot of the car is below. Here's hoping, for the sake of everyone on the road, that Moholland learns his lesson.

(Hat tip to The Stig's American Cousin!)