I was one of the lucky few to attend the filming of The Grand Tour's opening sequence and launch party. Little did I know that I would have multiple conversations with Clarkson, Hammond and May, and I'd bear witness Jezza's legendary lack of patience when things aren't perfect.

I'm a Top Gear superfan and cosplayed the event with my friends as The Interceptors. For those who don't remember, the Top Gear crew created a 'stache-tastic 1970s detective show based around the Jensen Interceptor. Needless to say, we were stoked to be there.
I arrived at dawn and gathered with about 1,500 other fans at parking lot in Apple Valley, California. The GT staff told us to leave all phones and cameras, and after a security frisking we were bused away to a remote desert location. As the bus turned onto a poorly maintained access road to a massive dry lake bed, I watched out the window as The Grand Tour's oasis appeared.

A helicopter whizzed above a stage large enough to host a major music act. Alongside was a giant military green tent and sprinkled throughout the scene were the most eclectic group of amazing cars I have ever encountered.
G/O Media may get a commission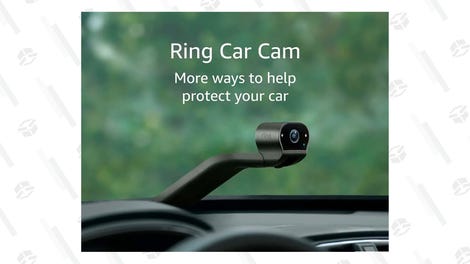 Nowhere on earth, besides maybe that big party they do in England in the one rich guy's driveway, has anyone ever seen a Porsche 919 racer parked next to a prewar Bentley with a Spitfire airplane engine, which in turn is parked next to a Pagani Huayra near Volvo P1800 from Roger Moore's The Saint. A few yards away was a Lamborghini Diablo and the La Bestioni Rusty 2, a custom built masterpiece based on a 1915 fire truck frame recently featured here on Jay Leno's garage.
There were more than 100 cars involved and all were significant, including some barely released models like the new Ford GT and Bentley Bentayga SUV. Surrounding the scene were custom built art cars, such as a giant flame shooting scorpion and a British double-decker bus sized VW van.
It was like Mad Max meets the Pebble Beach Concours, on crack.
The real jaw dropping moment was pulling up to the set, and seeing none other than Jeremy Clarkson in the flesh waiting to greet us. I was on one of the first buses to arrive and my costume got the attention of Clarkson shortly after disembarking. With a chuckle he, asked if we had Jensens. He greeted us warmly and shook our hands, exchanging pleasantries like we were guests arriving at his home. It was unbelievable.
Then Hammond and May joined Clarkson, continuing to greet the incoming busloads. May was the next presenter I met. He initially gave me a quizzical look and said nice mustache, but quickly made the connection. He explained that unfortunately he doesn't think they—the BBC most likely—will let them do any more Interceptor segments. We also talked about Drivetribe, telling him I was looking forward to being a tribe leader. He congratulated me and said they sorted through some strange tribe bids recently. Before I could meet Hammond, the producers whisked them away to prepare for filming.
A short while later they returned and the surreal experience continued. While I didn't get any photos since cameras were strictly banned, the rule created a fantastic environment for genuine interaction with the stars. I eventually came across Hammond who was finishing some anecdote. At the sight of me he stopped and complimented my cosplay and shook my hand.
He's actually taller in person, and I told him that. He replied he just looks short while working with two giant apes. Among other things, we spoke of his epic scene in the last Top Gear series winching up the side of a dam in an old Land Rover.
He said it was exciting, until he was half way up and realized one tiny cable was keeping him from certain death. "Then I shit my pants," he said.
Too soon the trio were whisked away again as shooting of the opening sequence began, but not before I got Hammond to autograph my Mercedes key. As they were setting up, show producer Andy Wilman addressed the crowd describing the scene as the most ambitious day of filming any of them had ever undertaken.
The scene portrayed Clarkson, Hammond and May driving across the desert in three special edition Mustangs with a pack of other vehicles, creating a massive dust cloud as they arrived on the set. The presenters arrived to a band playing what I assume is their new opening theme song to a large crowd (us).
In a nod to the Burning Man festival, they named the event Burning Van. Framing the scene was a burning caravan dangling from crane. The presenters took the stage to introduce themselves and the show, along with their new expedition tent. In between takes, they were playfully insulting each other. These insults were getting increasingly vulgar as the day continued, like Hammond was known as the prison bicycle and May is not allowed within 200 meters of a school.
They had just finishing filming a scene and someone in the crowd yelled out, "Don't get fired this time."
Hammond replied, "That's impossible, we're on the internet now. We can do whatever we want."
While Clarkson was warm and engaging to the crowd of fans, we did see a flash of that infamous temper that created the "fracas" leading to his BBC departure. After filming several takes of one shot, Clarkson wanted to wrap and was looking for the director's permission. The director was nowhere to be found. Clarkson called for him to quit wanking and show himself.
After waiting a few more minutes, he decided to wrap the scene himself and started to exit, only to be stopped as the director appeared asking for another take to capture other angles. Initially the microphone remained live for Clarkson's tirade but was quickly shut off. Shortly after Clarkson was seen retreating to a production vehicle for what looked like a very heated conversation with the director. In another instance, a cameraman forgot hit record, missing an entire take. Jeremy made a few more jokes about firing someone, but you could see the anger in his face.

Hey, I get it. The guy's a pro, and he's exacting in how he wants the production of his show to go. And he was still awesome to all of his fans in the audience.
I was very fortunate to have more encounters with the stars throughout the day. For the final climactic shot I positioned myself next to Clarkson to observe a flyover by several jets in formation. He talked to me and the other fans, autographing my other Mercedes key and handing out cigarettes to those around him to share a smoke.
I felt like I had developed a rapport with Clarkson, but I doubted anyone would believe me. After I was returned to my car, and had trouble deciding which autographed key I should use, I retrieved my phone and sent out a tweet thanking Clarkson for the party.

When he replied shortly after, I couldn't believe it. A fitting end to a totally epic day.
Tyler "Hoovie" Hoover went broke after 10 years in the car business and is now selling hamburgers to support his personal fleet of unreliable European cars. He documents his exploits on Twitter @hooviesgarage and will soon be writing for Drivetribe.