One of the most frustrating aspects of shopping for a car online can often be boiled down to three words: "call for price." It seems simple enough; call the dealership and they'll tell you how much it costs. But the subtext to this command will give you a pretty big clue as to whether or not you even want to bother picking up the phone.

It's no secret that some dealerships are just really bad at this whole "internet" thing. While some have adapted quite well to car shopping in the 21st century, other stores are convinced that the only way to make a sale is to convince someone to come into the store and haggle in person.
Often "call for price" is just a hook for you to pick up the phone and give them an opportunity to invite you to the dealership.

G/O Media may get a commission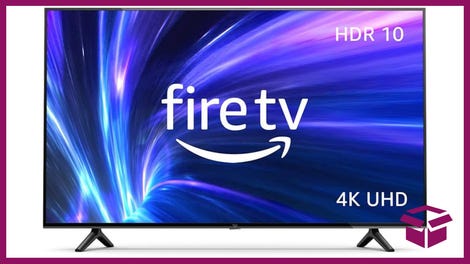 42% Off
Amazon Fire TV 50" 4K Smart TV
Recently, I was shopping for a Jeep Grand Cherokee and my clients wanted a fairly specific set of colors and options on a leftover 2017 model. Since the remaining inventory was pretty thin, this was not an easy car to find. I spotted a match at a local dealer, that I knew had a pretty bad reputation for playing games, and wouldn't you know it, the online ad said "call for price."

I knew exactly what I was in for, but since it was one of the few cars in the area that matched the requirements I begrudgingly made the call. I introduced myself and got bounced around to a few people before finally landing on the "internet sales manager" who informed me that they "do not give prices over the phone or via email" and that my clients would have to be there in person to discuss price.

When I told the manager that he would not be making a sale without knowing the price before my clients arrived, he instructed me to "get out a pen to write it down." After telling me what seemed like a pretty competitive number, then only to add $1,500 back in because my clients didn't qualify for certain rebates, I quickly ran some calculations and came up with a total discount of $5,800.

Later that day I get a note from another store that had been incredibly responsive and helpful via email. They told me they were able to locate a similar vehicle with a discount of over $7,000. I then received a window sticker and a full price quote to forward along to my customer. It doesn't take a rocket scientist to figure out who got the deal.
I can't say I'm too surprised that a Jeep dealer with a reputation for shady tactics would operate this way, but it can also happen at higher-end stores that are supposed to be better trained in customer service.

During that same time I was hunting for a used Mercedes-AMG E63 wagon for a client on the West Coast, and because a certain YouTube star and Gilmore Girls superfan bought one, interest in these rare cars has increased.

I spotted a nice specimen in California, and there were those three cursed words again: "call for price." So I called and almost dropped the phone when I heard, "Sir, we are asking $83,000 for that car."
After a pause, I said "It's a 2012, why is the price so high? I just got a 2014 CPO for under $80,000." Then he said, "I don't know sir, that is what management wants to sell it for." When I told him I found the same car in New York with fewer miles for $64,000 he said "Well, I guess that's a better deal."
A few days later I got an email from the store that they have "reduced" the price of their wagon to a more reasonable, but still uncompetitive, $69,000.

In the case of the Mercedes dealer, I suspect that the reason their price was so high was that they knew that they had a rare car and they were located in an area where someone with money would be willing to pay that hefty premium.

In the thousands of quotes I have received from dealers over the years, I have yet to encounter a "call for price" store that offered me anything better than the other places that posted their number up front. In fact, more often than not, the dealers that force you to make that phone call know full well they aren't competitive, but I guess they think by some miracle one of their "internet specialists" can convince you otherwise.

It's probably safe to say that if you are car shopping online and you encounter "call for price," you best bet is to not to.