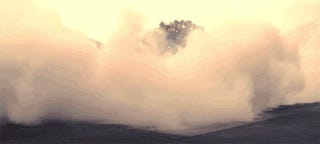 What would Jesus do? Burnouts.
At least in America. Car and Driver got themselves two Dodge Challenger SRT Hellcats and did the only reasonable thing you can do with two 707 horsepower muscle cars.
Here's how I think it want down at Dodge:
Guy 1: Gents, the muscle car war is on!

Guy 2: And AMG is winning it.

Guy 3: No, it's actually Ford.

Guy 1: But at least that bloody GT500 is out of production now.

Guy 3: Yes, but they'll be back.

Guy 2: AMG is going all-wheel drive anyway, the fools.

Guy 1: Indeed. How much hp does Chevy have now?

Guy 3: 580 in the ZL1 Camaro.

Guy 1: Pussies. How much can we do?

Guy 2: More?

Guy 3: 707.

Guy 1: Why 707?

Guy 3: Why not?

Guy 1: Good point. Get on with it. Make it red too and call it devil or something.

Guy 3: Beer?

Everybody: Beer.
Such a crazy thing, you can't help loving it.
Hat tip to Chris!