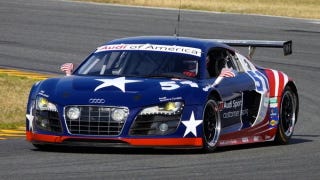 APR Motorsport has already committed to racing the Audi R8 LMS in the 2012 Rolex Grand Am series. But this is the first actual photo of the Grand Am prepped car, on track at today's test session at Daytona.
So whose car is this? It's not a team car. It's a prototype from Audi Sport with Frank Stippler behind the wheel. It's a tester for Audi's latest generation of customer racecars. Folks on the scene say it ran a 1:56.491 this morning, or about six-seconds off pace.
The Audi will join the typical Grand Am GT field of Porsche 911s and a new cadre of Ferrari 458s for the 2012 season. The first shot of the Grand-Am-prepped R8 hit earlier today at courtesy of QuattroWorld.
What makes the R8 GT car Grand Am compliant? Mostly, it's a thicker roll-cage that complies with the series' safety regs, designed around the added level of complexity from Daytona's high banked turns.
This R8 LMS also has no traction control or ABS, but uses the same ECU, and has between 50 and 70 fewer horsepower. The air-restricted 5.0-liter V10 will be dynoed at Nascar's Concord, N.C. later this year.
Audi's said it will build four Grand-Am models for the 2012 season, priced at $438,000 a pop. APR Motorsport is the only team committed to running an R8 in 2012.
Rumor has it Grand Am has committed to finding good homes for the remaining cars, and global racing may be an incentive. With parts provided by Audi Sport, American teams racing the R8 LMS will be able to enter races overseas, like the 24 Hours of Spa.
(Photo (white R8): James Kirkham)