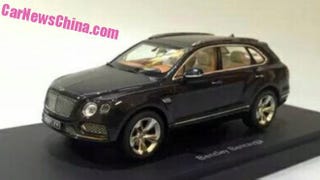 Truck Yeah
The trucks are good!
You were not supposed to see the Bentley Bentayga just yet. So here it is.
Bentley had to throw its second-ever SUV back to the drawing board after realizing that pretty much everybody hated the previewing EXP 9 F's design. But that was only a slight delay, no more. The Bentayga is ready now, and thanks to our friends at Car News China, you can check out what they ended up with.
Scaled down to 1:18.
I'm certain it can go very fast. Bentley has shown us that it can even crawl up some rocky routes any other car could also crawl up on, and it's a Bentley on the inside, meaning that you won't find a more luxurious place in the whole county.
Would you call that a win, or will you stick to your Porsche Cayenne Turbo S?
For more images, head over to Car News China!
Photo credit: CNC
---
Contact the author at mate@jalopnik.com.