The Alfa Romeo Giulia is a sexy and fast sports sedan that has been off to a bit of a rough start in the U.S. Given Alfa's history of unreliab—er, quirky cars, the only way many of you would consider one is going the lease route. For less than $300, that Giulia might now be pretty tempting.
Before you go rushing down to your local Alfa dealer with dreams of a Giulia in your driveway for only $299, let's look at the details because just like any lease special, you must pay attention to the details.

$299/mo - 24 month lease/10,000 miles - $3,299 due at lease signing

For well qualified lessees. Based on MSRP example of $38,990 with 22L package. Must be current owner of competitive brand vehicle (non-FCA US LLC). No turn-in or trade-in required. Total due at lease signing includes a down payment and first month's payment. Offer requires dealer contribution. Tax, title and license extra. Lessee pays for excess wear and mileage of $0.20/mile for each mile over 10,000 miles per year, if vehicle is returned at end of term. Option to buy at lease end at pre-negotiated price. Dealer's actual terms may vary. Offer through Ally. Residency restrictions apply. Must take retail delivery by July 31, 2017.
Based on MSRP example of $38,990 with 22L package
So first of all, that $299 target is contingent upon a base model car with no additional equipment, but that really isn't so bad. The Giulia has standard leather seats, Xenon lights, backup camera, a 280 horsepower turbocharged four-cylinder motor and some pretty decent equipment even before you start checking boxes.
G/O Media may get a commission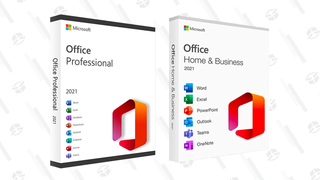 95% off
Cyber Monday - Lowest Price Ever - Microsoft Office Lifetime License
The problem is it may be difficult to find a base Giulia on your local dealer lot. Those cars are out there, but most dealers are stocking Giulias around the $42,000 to $47,000 range. But don't fret, some dealers are really aggressive with their pricing right now so even if you find a car that is a few grand more than a base model, with some good negotiation you might be able to come close to that $299 a month payment.
But the second caveat is that you must already be the owner or lessee of a non-FCA product:
Must be current owner of competitive brand vehicle (non-FCA US LLC)
Alfa has built into this lease a $2,750 Conquest Cash Allowance rebate in order to get the price down to hit that $299 target. So unless you're some sort of hardcore MOPAR maniac, chances are you have a car in your household that was not made by a brand under the Fiat Chrysler umbrella and therefore would qualify for the discount.
(Update: An Alfa dealer was nice enough to jump into the comments and clarify that the details of that Conquest Cash: Customers who currently own or are leasing a competitive brand vehicle (non FCA Group product) and enter into a new purchase or lease of an eligible model are eligible to participate. The customer must have purchased or leased their competitive brand vehicle (non FCA Group product) at least 30 days prior to delivery of the new vehicle to be eligible to participate in this program. If the vehicle has been turned-in already it must have been within the last 30 days in order to qualify for this program. Customers are not required to trade in / turn in their competitive brand vehicle (non Chrysler, Jeep, Dodge or Ram product) to be eligible for participation. The customer of the competitive make must meet all eligibility requirements and must be the primary user on the purchase/lease contract and named on the Title and/or Owner's Registration. The primary user of the competitive make must be the insurer of the vehicle.)
One more:
Tax, title and license extra
Remember, leasing is an equation and three key variables that impact your monthly payment: down payment, miles, and term. This Giulia lease for $299 a month requires you to put down $3,299 up front but does not include any tax and fees for your area. Granted, practically every single lease has that disclosure but it's important to understand that you will likely have to put more than $3,299 down or you will have to roll that balance into your payments and will, therefore, be a bit more than the advertised price.
Lessee pays for excess wear and mileage of $0.20/mile for each mile over 10,000 miles per year.
So not only is this a really short term lease at 24 months, as most luxury sedans are leased for 36 months, Alfa is only allowing you a total of 20,000 miles at the end of that term. Of course, the reason for this restriction is to keep the resale value of a two year old Alfa reasonable and therefore have the math work out for that $299 monthly payment.

The conclusion here is that Alfa isn't really offering anything new or special. Luxury car brands advertise these types of lease specials all the time with the hope that the hook of a low payment will get you into the dealership. Rarely do the lease numbers in reality match up with the advertised special.
However, if you can find a cheap enough car and are the type of driver who doesn't rack up the miles, essentially borrowing an Alfa Romeo Giulia for two years for only $299 a month would be a nice way to enjoy something different.