When I bought my 1986 Jeep Grand Wagoneer a few weeks ago, I'll admit that I didn't really look at it very carefully. "Frame doesn't have holes, engine isn't seized—I'll take it," I decided in desperation after failing to find a project for months. Now I've had some time to look the Woodie over, and, well, it's not great.

I sort of introduced my new off-road project—an $800 1986 Jeep Grand Wagoneer—a few weeks ago. I say "sort of," because that article really didn't mention the Jeep's faults—it was focused on the shit-show that was trying to get the non-running heavyweight (which had a seized brake) from a lawn onto a trailer, and then all the way across Michigan to my house.
But now I've had the Jeep sitting in my backyard for a few weeks, and I've spent many romantic nights gazing at the machine's beauty, with candles lit and Marvin Gaye playing in the background. Here's what I've learned.
The Rust Is Bad
G/O Media may get a commission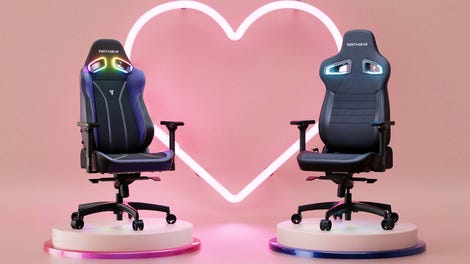 Up to $150 off
Vertagear Gaming Chairs
I knew rust was going to be plentiful when I bought the Jeep—I mean, just look at the rocker panels and quarter panels. But after seeing how decent the frame was, I figured the floors would be at least acceptable. You know, a couple of holes here and there and some deep scaly rust throughout.
But actually, there just were no floors at all—well, at least on the driver's side. They're basically completely gone. Here's where the front floorboard should be:
Here's where the rear driver's side passenger puts his or her feet:

Here's another section of that rear floor:
There's literally just carpet between the cabin and the ground below:
What's really strange is that the driver's side is far rustier than the passenger's side. The floorboards on the starboard side are completely intact, and have only a light coating of surface rust:
But I'm really not that concerned about the floorboards—I'll just have to remember not to put heavy tools down on the driver's side, and not to step down too hard unless I'm exactly over the frame rail. No, my biggest rust concern right now in the fuel tank skid plate, which is meant to protect the enormous, low-hanging plastic vessel of gasoline.
From the passenger's side, the coffin-shaped skidplate looks wonderful. But then as you move towards the driver's side, the skidplate just...ends. It ceases to exist. A solid three quarters of the skidplate has been reduced to dust.
So I'll need to either find a new skidplate at a junkyard, or fab my own up, because the tank is in far too vulnerable of a location to do without some armor.
Here are some additional Fe2O3 images, in case you haven't seen enough:
The Steering Column Is Seriously Messed Up
As someone who drives old Jeeps, I'm totally okay with with a bit (OK, lots) of play in my steering. But what I'm not OK with is play in my steering column. That's just too sketchy.
I'm not entirely sure what's going on with my column, but the whole top half of it (after the tilt joint) wobbles around like a floppy noodle. The tilt function still works, but clearly something's not right there.
The column appears to be a standard Saginaw unit, so I'll probably figure out a way to take care of this with some parts (or even a whole column) from the salvage yard.
I Know Nothing About The Engine
The previous owner told me the 360 cubic-inch AMC V8 turned over by hand; other than that, I have no information on the motor other than the 172,000 miles on the odometer, and the sludge that I found on the dipstick.
The previous owner told me the engine just cut out one day as his wife backed out of the driveway, so there are quite a few mysteries left to unravel under that hood. (It's worth noting that I did get the engine to turn over just enough to set the carburetor on fire; I'll talk about that more in the next update).
The fact that the engine isn't seized and that the oil level was where it needed to be is promising. I'll run a compression test, and see if I can get this baby to run after replacing some ignition parts (which I suspect are the culprits for why it cut out).
The Transmission Cooler Is Falling Apart
Especially since I plan to tow my 1948 Willys CJ-2A to Utah (a trip that includes traversing the Rocky Mountains), my Grand Wagoneer is going to need a way to keep its transmission cool. Unfortunately, the big cooler mounted up front is falling apart. You can see in the photo above how the fins have separated from the tubes, and now look an accordion flowing from my grille.
I'll probably pick up a giant transmission cooler from a heavy duty truck at the junkyard, so this really isn't a huge deal.
The Interior Electrical Bits Need Work
First with the good news: I have power seats and power mirrors! The bad news is that most of my power windows are extremely slow, the blower motor doesn't work, the rear glass doesn't roll down, the radio doesn't function, and I have no taillights.
Of those, I think the electric rear glass, the blower, the taillights and the radio will be my priorities. The power back glass it too cool to go without, I may need the blower if I want to drive this in the winter (which I'll need to do in order to test this Jeep before the big trip in late March), taillights are a legal requirement, and a radio would be nice considering the hundreds of miles I have to drive on Interstate 70 through Kansas.
Door Problems
Three of my doors have problems. The driver's door has what looks like a 0.22 caliber bullet hole just to the right of the key hole. That key hole goes to a mechanism that, for whatever reason, locks me out if I close the door too many times. It seems like after about six or seven door-closes, I have to pull the driver's door lock back up via the rear door.
Then there's the rear hatch. The way you're supposed to open it is, you have to stick your key into the lock, turn it, and watch the electrically-powered glass roll down. Then you can grab a handle, and drop the tailgate. The problem is, not only do I not know if that rear window motor works (the switch up front sure as heck doesn't), but I also don't have a key that goes into the lock cylinder.
So even if the electric window did work, I couldn't operate it. So basically, as it stands, I have no way to get into the back of my Jeep.
The last door problem I have is a broken pin in the passenger's-side rear door hinge.
The door just wobbles all over the place as I open it. As I don't want it to fall off, I think I'll just stop using this door. I have three other ones that work, and, worst case, I can always reach in through the floors.
I Need To Figure Out How To Remove 12 Year-Old Gas From My Tank
Snaking a siphon down my fuel filler neck has proved difficult, and draining the fuel from the front of the Jeep (where the line goes into the mechanical fuel pump) hasn't worked, either. This leaves me with a few options: I can drain the tank through the opening under the rear seats (see picture above), or I can yank the filler hose off the tank, and shove a siphon in its place. I could also just drop the tank.
I haven't figured out which I'm going to do, but I can tell you that removing the giant plastic nut from the top of the tank (this is where the sending unit is), seems borderline impossible. Even with plenty of PB Blaster and my finest channel locks, I've had no luck.
There Are Leaks
All old Jeeps leak—this is just a fact. But there comes a point when the leak is so bad, you juts have to fix it. I haven't assessed how bad my Grand Wagoneer's leak is yet, so I don't know if I'm at that point. What I can tell you is that the underbody—especially in the vicinity of my transfer case—is covered in oil (hence why there's no rust in that area).
The Brakes Are Not Well
A firm brake pedal is usually a good thing, as it indicates there's fluid in the system, and that there are no leaks. But a rock solid pedal ain't good—it means pistons aren't moving.
I can tell you for certain that a rear wheel cylinder on the driver's side of my Woodie is seized, as I tore up the back yard dragging the Jeep to its current location (you can sort of see the skid mark in the picture above).
But that's OK. I figure if I'm going to be driving down steep grades only feet away from near vertical cliffs, I should probably replace the entire brake system anyway.
What's Next
My priority for Project Redwood (named for its enormous size that will undoubtedly make off-roading rather interesting) is to get the engine compression tested and eventually running. If I need to yank that big V8 out and rebuild it, I need to know that sooner rather than later.
From there, I'll do the brakes so I can at least get the Jeep on the road, and shake out any other issues I'm not yet aware of. At that point, I've got to figure out how I'm going to put a lift kit on this thing without going broke, and I have to go through the perils of digging into that broken steering column and also tracking down electrical gremlins.
It's time to get wrenching.