If you were worried that the fifth Fast And The Furious movie was going to be the last, you can breathe a sigh of relief.
The sixth installment will complete the double trilogy that started when Paul Walker and Vin Diesel drove Eclipses and Supras with gallons of nitrous and 37-speed transmissions to street racing glory 12 years ago.
A preview for the next film is supposed to air during some sort of minor football game this weekend (I think on Sunday?), and it will feature this car: A bodykitted and powerfuller Nssan GT-R.
The car in question is the SP Engineering Nissan GT-R. It isn't what I'd call a looker, but thankfully it has 685 horsepower and 603 pound feet of torque so it can drive out of sight even quicker.
G/O Media may get a commission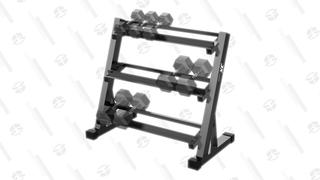 20% Off
JX Fitness Dumbbell Rack
Gains but tidy
Has a three-tier design to help store more weights more conveniently, can safely support up to 1000lbs of weight, which should be enough for most people, has a triangle base for stability, and also features anti-scratch feet which is great if you've built your own studio or workout in your garage.
Look for it to make its big screen debut in 6 Fast 6 Furious (I don't think that's the official title) later this year.