Those bemoaning the demise of small and lovable hatchbacks in the U.S. auto market can bemoan slightly less now, for I have confimed a legal way that you can own a new Mazda 2 hatchback in the U.S.

Astute readers may know that that the newest-generation Mazda 2 never made it to the 50 states. Scion, and later Toyota, offered a reskinned version of the 2 sedan as the iA and later the Yaris iA, but would-be hatch buyers were out of luck.
Had they been willing to expand their search, they would have been rewarded with great bounties of fun-to-drive Japanese hatchbacks located just off our coasts. You see, while the Mazda 2 may not be for sale at your local dealership, you can buy one in the U.S.
You just have to go to Puerto Rico.
Once there, you can head to any of the island's seven Mazda dealerships and snag yourself the Soul Red hatchback of your dreams, as I learned from a post by reddit user WaddlesJP13. You'll probably have to pay more than what the equivalent Mazda 2 would cost on the mainland, as shipping a car from Puerto Rico tends to be pricey.
G/O Media may get a commission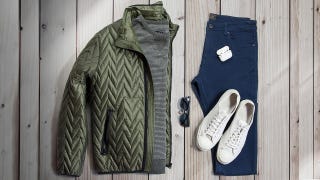 60% off
Jachs NY Fall Sale 60% Off
Mazda doesn't have a price listed on its Puerto Rican website, but the cheapest one I could find was a 2017 model at Caguas Auto Mall Mazda listed for $17,195. Better-optioned, 2018 models crest $20,000.
Let's say you buy it. But you don't live in Puerto Rico, you live in Newark, Ohio. While Newark is a lovely place most famous for containing the world's biggest basket, it is quite notably not part of Puerto Rico. So what kind of legal hoops do you have to jump to in order to register your new Mazda 2 back home?

None.
As long as you can manage $845 to ship the car from San Juan to Jacksonville and drive it home from there, your new car is entirely legal to own and operate in the U.S. mainland. Cars sold new on the island, NHTSA confirmed in an email, meet all federal standards:
To be lawfully manufactured for sale or sold in Puerto Rico, a motor vehicle must be originally manufactured to comply with all applicable Federal motor vehicle safety standards and be so certified by its original manufacturer.
Federal safety standards, the email explained, apply equally to vehicles sold in all 50 states, Washington D.C., Puerto Rico, the Northern Mariana Islands, Guam, American Samoa, and the Virgin Islands.
And you won't even have to explain it at the port, as NHTSA reminded me that vehicles shipped from Puerto Rico don't have to go through customs:
Puerto Rico is within the Customs Territory of the United States. Vehicles shipped from Puerto Rico to the U.S. mainland are not deemed to be imported into the United States, as they are already in the United States.

The reason we don't usually talk about this is because Puerto Rico typically doesn't get any cars that the mainland doesn't. Because they have to meet all federal standards, it usually doesn't make sense to sell a model in a U.S. territory when they could sell it throughout the country without having to change the car.
But for some reason, Mazda decided to sell the new 2 in Puerto Rico. I'd personally guess that it has something to do with their complicated licensing agreement with Toyota, but in the end it doesn't matter. (A Mazda spokesman said this: "The conditions for the Puerto Rican market make the Mazda2 make sense, due to market tastes and local market conditions such as taxes. While it may be possible to legally register a Mazda2 in the U.S., the vehicle is best-suited for regions with strong demand for smaller passenger cars.")
What does matter is that today, you can buy a fun-to-drive, attractive hatchback and be damned sure you'll have the only one on the block. Unless that block is in Puerto Rico.