What you're looking at is the powertrain for the utterly insane Mercedes-AMG Project One hyper-ultra-super-mega-car—the $2.9 million car so bonkers, they're essentially stuffing a lightly detuned Formula One engine in it. Neat.

Merc showed off the Project One's under-bits during this weekend's Nürburgring 24 Hours. The 1.6-liter turbocharged engine will have an 11,000 RPM redline. That's down from the F1 car's 13,500 RPM redline, but still the same displacement and built in the same factory as the F1 engines, per Road & Track.
Project One boasts four motors adding even more power to that 1.6-liter turbo, good for a combined spec of over 1,000 brake horsepower. One 80 kW motor keeping the turbo spooled at all times. A 120 kW motor is attached to the crankshaft. Two 120 kW motors are attached to the front axle, allowing you to putter around in front-wheel drive all-electric mode for approximately 15 miles.

Enabling that 15-mile all-electric range is a 200-pount mid-mounted battery with the same high-tech cells as Mercedes' F1 car, only there are more of them—good for 800 volts.

The engine is also highly efficient, with a claimed thermal efficiency of 43 percent, per Road & Track. That's similar to the efficiency figures of a Prius, Top Gear notes—only it's going in a world-beating hypercar.

G/O Media may get a commission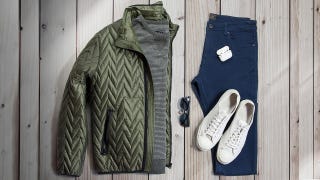 60% off
Jachs NY Fall Sale 60% Off
The whole Project One drivetrain weighs 925 lbs and feeds power into an eight-speed single-clutch transmission, which was chosen for being lighter and less fragile than the dual-clutch transmissions we're used to in many hypercars. Carbon-ceramic brakes slow it all down.
If you plan to dish out $2.9 million on this road-legal F1 engine, you shouldn't have much longer to wait. Moers told Road & Track that they've been testing drivetrain and chassis mules, and they should move on to testing out the real car soon. Once the car is good to go, they'll be building one of the 275 Project One hypercars per day to meet demand. But hopefully you don't live in China—that's the one place where the Project One isn't legal.

If you'd like to see more, friend of Jalopnik Maté Petrany was at the Nürburgring this weekend and took a ton of close-up photos of the car's insane drivetrain for Road & Track, which you can see here.