Are you over 14 years of age? Are you not a rally driver? Great, because this Finnish kid is already living a better life than you.
While you may have spent your 14th year in this mortal realm alternately chasing and running away from people you're desperately in like with, Kalle Rovanperä is already blasting through countrysides all over Europe in rally cars. We first saw Kalle dabble in the world of rally when he was naught but a young buckarootie of 11 years of age, but now, three years later, he's moving up the ranks.
And sure, he's got the genetic advantage of both being Finnish and the son of former World Rally Championship driver Harri Rovanperä, but here he is, actually doing it. But remember, he still looks like this:
WAIT A SECOND.
Wait. Just. One. Second.
I've seen that face before. That blonde hair. And even the name, Kalle, seems familiar. But where could I have seen it?
G/O Media may get a commission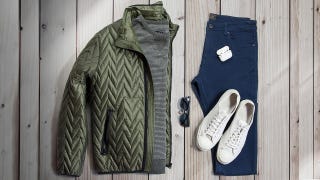 60% off
Jachs NY Fall Sale 60% Off
OH MY GOD IT'S THE BOY FROM KALLE'S KAVIAR THE FINEST CREAMED FISH EGGS KNOWN TO MAN AND/OR PEOPLE WHO GLANCE INTO THE FOOD SECTION AT THEIR LOCAL IKEA.
Foresooth, he is the Chosen One, prophesied on big tubes of paste made out of extruded fish parts.
Anyways, look for him to hit the WRC circuit in five years or so.
Photo credit: Kalle Rovanperä Racing/TGS Race Team/Facebook
---
Contact the author at ballaban@jalopnik.com.
Public PGP key
PGP fingerprint: 0D03 F37B 4C96 021E 4292 7B12 E080 0D0B 5968 F14E