One of the great conveniences about riding a motorcycle is ease of parking. And at no time could that come in handier than if you're flying out of town for Thanksgiving this week. Thankfully, there are more options than you may think.

The fine folks over at FlyerTalk have put together a list of airports where motorcycles can park for free. Unfortunately, many of them are in Europe and others are in places where riding in late November may no longer be in the cards.
But if you live near, say, Los Angeles, you're in luck. The official guidance at LAX says "DO NOT take a ticket" and simply ride around the gate arm when you enter or exit parking structures. Sweet. Park your bike at the end of rows, in corners or anywhere else where it won't block a car.
And don't park in a spot marked for cars paying $30 per day for the privilege. Suckers!
Other airports with officially free motorcycle parking include Portland, Oregon; Madison and Milwaukee in Wisconsin; Des Moines, Iowa; Detroit; and the three New York area airports: Newark, JFK, and LaGuardia.
G/O Media may get a commission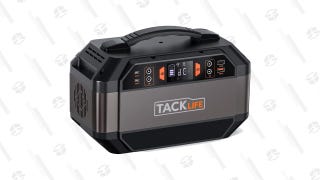 Tacklife Portable Solar Generator
Internet forums provide several suggestions for motorcycle parking in employee lots or taking liberties around gate arms at various airports around the country. But your best bet may simply be a call to airport parking officials to see if they'd be cool with leaving your bike in an out-of-the-way spot for the weekend.
Meanwhile, time to dig out those bungee cords to strap that luggage to the back of the bike. And maybe a quick look in your manual about how to adjust your suspension to accommodate a few extra pounds on your return!

Know any other bike-friendly places at airports? Share 'em in the comments.
---
Erik Schelzig is a Nashville-based journalist who has been trying to sneak his motorcycle on to assignments for two decades.But mostly he just uses the bike to commute to work.